This is a permanent ride and can be ridden at any time.
216km, 14.3 to 30kph (7h12m to 15h6m). 1900m of climbing.
I love a good pork pie! Melton Mowbray is synonymous with that tasty, pastry-covered block of jelly enshrined meat! Nom-nom! Wikipedia suggests that Melton Mowbray promotes itself as the Rural Capital of Food and that it is also one of the five homes of Stilton cheese. This all adds up to a very good reason to go there: food.
Riding permanent events in covid times
Audax UK has imposed restrictions on how many riders can ride any single permanent event on any single day: currently there is a limit of six riders per day on any perm. This rules applies in all four administrative zones of the UK and is in line with British Cycling's current advice. Check with Nick before riding that there is available space on the road. More information is here.
Riders must adhere to Audax UK's Covid-19 Behaviour Code.
(updated 5 May 2021)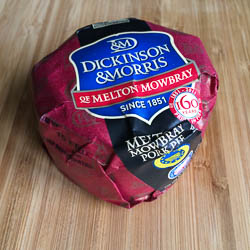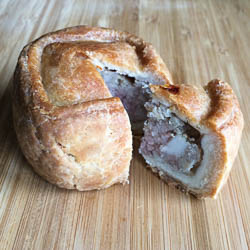 This is a surprisingly hilly — and fun! — route for one starting from Cambridge: made more fun because most of the hills are concentrated at the far end. However, a flat and quick run-out for the first leg, and a mostly flat and quick run back in again on the final leg mean that you should easily make back any time you lose climbing les Alpes de Leicestershire. If you can, ride this into a north-westerly for an assisted run back after all that winching.
This is definitely a route of two halves.  Flattish to Oundle and back, with hills between Oundle and Melton Mowbray … All in all this was a thoroughly enjoyable ride with much fine scenery, mostly very quiet roads, and challenging but not punishing hills.  I'd give it a 10/10.

— Steve, April 2015
There are a number of pubs along the route to break up the ride, and a couple of village-shop cafés. And, of course, your taste buds can be tempted with treats in The Rural Capital of Food …
Note This permanent event cannot be ridden on the same date as the calendar event of the same name.
The route
Starting from Girton on the northern edge of Cambridge, this ride heads north-west to St Ives and onwards, flirting with the fens and providing a very fast run-out to the most historic Northamptonshire town of Oundle, famous for its centuries-old school, as well as the one-time home of Billy Bragg. From Oundle, the route climbs steadily before dropping down into Melton Mowbray, where you can sample some really great food (there's also a MacDonald's should you wish).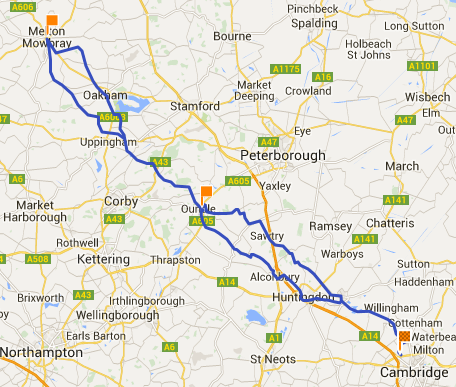 The return leg takes a distinctly scenic route out of Melton Mowbray and the 60km to Oundle will likely challenge flatlanders (although not uplanders), which is good and character-building. The upside is that the run from Oundle back to Cambridge is very flat and any time you lost in the hills you should easily gain on the flat — the final 50km has only two hills, they're really only bumps, and the very final 30km is dead-flat. Just look at the elevation profiles here.
The route passes through traditional sandstone villages in Cambridgeshire, Northamptonshire, Rutland and Leicestershire, as well as the ancient market towns of St Ives, Huntingdon, Oundle, Oakham, and Melton Mowbray. If you are lucky you will see lots of red kites and other hawks flying overhead — when we tested this route we saw dozens of individual raptors a-wing, a real pleasure!
In winter it is possible to ride a version of this route using mainly gritted main roads, but it loses much of its charm and character by doing so — ask the organiser. In spite of the ruralness of much of the route, the lanes aren't particularly agricultural, although mudguards are still recommended in heavy weather.
The controls
Start and finish at the Co-Operative at 120 Girton Road, Girton CB3 0LW, opposite Weavers Field (07.00-22.00), which is close to ample car-parking. You can also use the BP Garage/Spar on Huntingdon Road, CB3 0LQ, which is open 24-hours and has a toilet.
Alternatively you can start at any control on the route and ride in either direction (ask the organiser for the reverse GPX files if you need them). If you wish to start at a point along the route, please confirm with the organiser first.
The controls are well-serviced, commercial controls with 24-hour provision — Girton, Oundle, Melton Mowbray, Oundle. Especially recommended is Beans Coffee Stop café in Oundle — although make sure you do get a receipt from them, because they don't really get why we want one.
Toilets are available in Oundle and Melton Mowbray, or behind some hedges on the route.
The routesheet and GPS files
There are two versions of the routesheet, depending on what you want: one has distances between instructions and holds your hand; the other contains just the turn-by-turn instructions with only as many distances as necessary for navigation and planning, as preferred by old-school audaxers: (updated 26 April 2015)
There are several versions of the GPS files, depending on your device and preference: TCX files provide turn-by-turn in Garmin Edge devices; GPX files provide a track to follow on-screen on all devices, although older devices need tracks with fewer than 500 points. They're all here, although you only need to download one: (updated 20 February 2015)
Getting to the start
Hopefully you live close enough to cycle to the start, but if not then park in Girton north of the A14 — there is a public car park at the recreation ground next to the church in Girton. Alternatively, park in any side road — Pepys Way, Hicks Lane and Mayfield Road are close and safe.
Cambridge is well-served by train, and it's an easy 6km ride from the station to the start control through the historic centre of Cambridge (routesheet | GPX | TCX).
Before you start
It is a requirement that you notify the organiser of the date of your ride for validation and insurance purposes — a text or email is sufficient.
On completion
When you have completed the ride, write the control establishment names and times on the brevet, complete your details on the reverse and then send your brevet card and receipts to the organiser (details are on the routesheet). And please remember to sign your brevet!
Have a great, safe ride! Enter this ride