The Cambridge Pork Pie 200 calendar event Enter this event »
8am, Saturday 18 March 2017, from the Recreation Pavilion, Girton, Cambridge (next to the church).
215km, 15 to 30kph (6h48m to 13h32m). 1900m of climbing.
We love a good pork pie! Melton Mowbray is synonymous with that tasty, pastry-covered block of jelly-enshrined meat! Nom-nom! Wikipedia suggests that Melton Mowbray promotes itself as the Rural Capital of Food and that it is also one of the five homes of Stilton cheese. This all adds up to a very good reason to go there: food.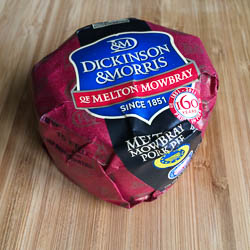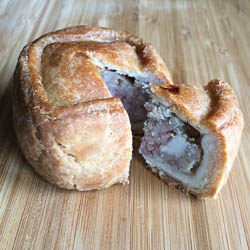 I like the look of this, bringing pies to the people, almost like a British version of the Beaujolais run but with pork pies! I think I could be in.

— Paul, January 2016
This is a surprisingly hilly — and fun! — route for one starting from Cambridge: made more fun because most of the hills are concentrated at the far end. However, a flat and quick run-out for the first leg, and a mostly flat and quick run back in again on the final leg mean that you should easily make back any time you lose climbing les Alpes de Leicestershire.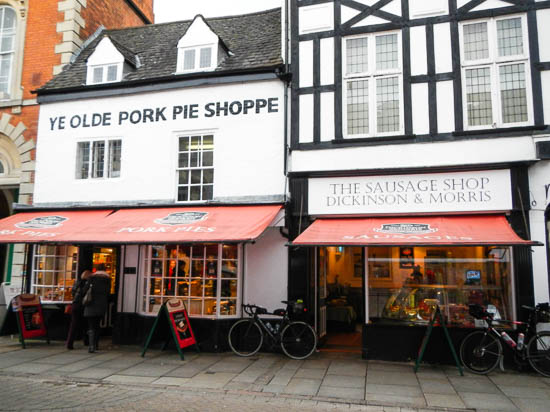 This event takes place in mid-March, so expect a bit of weather en route — and pray for a north-westerly to blow you back home after all that winching!
There are a number of pubs along the route to break up the ride, and a couple of local village-shop cafés, although don't dilly-dally on the way out if you want to beat the cut-offs! And, of course, your taste buds can be tempted with treats in The Rural Capital of Food …
We've posted a report from our side from last year here (clickety).
The route
This year's event has been simplified to just a single control at Melton Mowbray — it is up to individual riders to decide for themselves whether they wish to push on thru without stopping in a single 105km stage, or instead to stop for a break in Oundle or Oakham on the way out, and in Oundle, Huntingdon or St Ives on the return leg. Bear in mind, if you've entered London-Edingburgh-London, that the first stage of LEL is 100km long, so this could be good practice! LEL's second and penultimate stages also use some of the same sections of road as this event.
Also, for those who like a bit of an extra challenge, or who rode it last year and would like to try something else, then there is an alternative and rather scenic route available — the "Extra Slice". This route includes even more hills and is borderline AAA, at the cost of an additional 10km, so 225km in all, but no extra time allowed. If you're a Flatlander like me then the Classic (this page) is probably hard enough for March!
Starting from Girton on the northern edge of Cambridge, this ride heads north-west to St Ives and onwards, flirting with the fens and providing a very fast run-out to the most historic Northamptonshire town of Oundle, famous for its centuries-old school, as well as the one-time home of Billy Bragg. (Note: Oundle is not a control this year — you are welcome to stop for a cup of tea, but you don't have to if you're feeling strong.) From Oundle, the route climbs steadily before dropping down into Melton Mowbray, where you can sample some really great food (there's also a MacDonald's should you wish).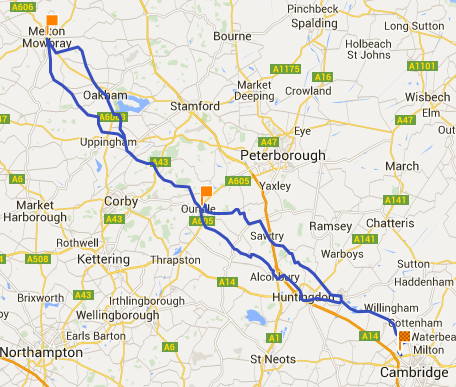 The return leg takes a distinctly scenic route out of Melton Mowbray and the 60km to Oundle will likely challenge flatlanders (although not uplanders), which is good and character-building. The upside is that the run from Oundle back to Cambridge is very flat and any time you lost in the hills you should easily gain on the flat — the final 50km has only two hills, they're really only bumps, and the very final 30km is pan-flat and lit with fairy lights along the Busway. Just look at the elevation profiles here.
This is definitely a route of two halves.  Flattish to Oundle and back, with hills between Oundle and Melton Mowbray … All in all this was a thoroughly enjoyable ride with much fine scenery, mostly very quiet roads, and challenging but not punishing hills.  I'd give it a 10/10.

— Steve, April 2015
The route passes through traditional sandstone villages in Cambridgeshire, Northamptonshire, Rutland and Leicestershire, as well as the ancient market towns of St Ives, Huntingdon, Oundle, Oakham, and Melton Mowbray. If you are lucky you will see lots of red kites and other hawks flying overhead — when we tested this route we saw dozens of individual raptors a-wing, a real pleasure!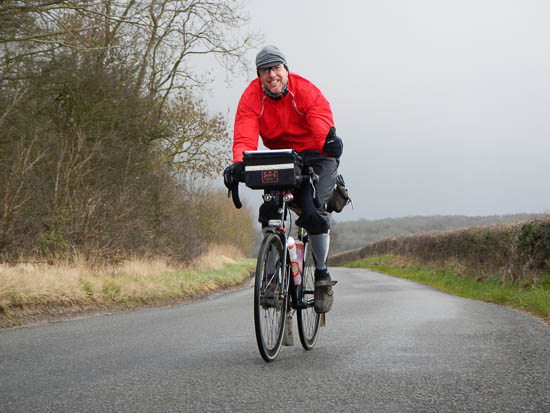 All in all a great route that has the makings of a tough, early-season classic  :thumbsup:

— Tom, March 2016
We checked the route on 4 March 2017, a couple of weeks after Doris had blown through, and after a few days of heavy raid. In places the route was somewhat agricultural, in one place disctincly farm-yard for 100m! Mudguards are requested for the benefit of café proprietors and other riders.
Important notes
There are a few bollards on the busway path — please warn riders behind you!
The Busway may be flooded for about 400m between Swavesey and St Ives, due to being sited on a flood plain — last year it was just-passable, but this year it is completely clear at the moment.
The route can be agricultural in places and therefore mudguards are requested for the benefit of café proprietors and other riders — and us cleaning up the pavilion afterwards.
There are some steep descents — you should check that your brakes are in good working order before starting.
This is an x-rated event — you must get just one proof-of-passage – a receipt – from a commercial establishment in Melton Mowbray, of which there are plenty. Please check that the time and date on each receipt is correct and that the place name (Melton Mowbray) is clearly shown.
You are on a private excursion on public roads. The given route is advisory.
You should carry a lock to secure your bike at the controls.
The controls
Start and finish at the Recreation Pavilion in Girton next to St Andrew's Anglican church on Cambridge Road, CB3 0FH, 2km northwest of Cambridge city centre.
There is just one commercial control:
Melton Mowbray — Lots of cafés — Gracies, More Coffee Co, Café 54A recommended — pubs, Greggs, McDonalds, Wetherspoon, banks (ATMs), and of course Dickinson & Morris Ye Olde Pork Pie Shoppe on High Street (walk through the market, it's on the RHS).
Toilets are available at the start/finish and in Oundle and Melton Mowbray, or behind the many hedges along the route.
The routesheet and GPS files
We rode the route to check the route, routesheet and GPS files on 4 March 2017. There are no major issues with the route, one or two minor signage changes that's all. You can use either last year's or this year's routesheet and GPS files
Note the additional routesheet and alternative GPS files due to possible flooding on the Busway every March.
Note that if you're looking for the extra-slice route details then see this page — if you don't know what that is, it's probably not for you!
There are two versions of the routesheet, depending on what you want: one has distances between instructions and holds your hand; the other contains just the turn-by-turn instructions with only as many distances as necessary for navigation and planning, as preferred by old-school audaxers: (updated 5 March 2017)
There are two versions of the GPS files, depending on your device: the standard GPX files will work with all modern devices; the 500-point GPX files are required for eTrex and similar legacy devices. You need to download only one, unzip the two GPX files and install BOTH GPX files to your device. NOTE you need both GPS files from whichever ZIP file you download from below — one gives the route from Girton to Melton Mowbray, and one back to Girton. (updated 5 March 2017)
You can browse the route and view the elevation profiles on RideWithGPS here
DIVERSION AROUND POSSIBLE FLOODING ON THE BUSWAY BETWEEN SWAVESEY AND ST IVES
Hopefully this is not required! This mini routesheet gives only the instructions from Girton to St Ives, where you can revert to the original routesheet, and from St Ives to Girton. You will also need the original routesheet.
The GPS files below are in two parts — there, and back again — and you need both parts. These courses have the suffix "F", so you can load both the originals and these onto your GPS device before travelling to the start and choose the correct one on the day — we will tell you when you pick up your brevet what state the busway is in.
Getting to the start
Hopefully you live close enough to cycle to the start.
Cambridge is well-served by train and you should be able to catch the 06.44 from King's Cross, London, and arrive just about in time for the start — don't worry if you're a few minutes late to the start, we will still be there for the start of the 100km event. It's an easy 7km ride from the station to the start through the historic centre of Cambridge — routesheet | GPX | TCX — if you use these instructions, continue past the Co-op to the start on RHS in 1km next to the church.
If you intend to drive, aim for St Andrews Church on Cambridge Road, CB3 0FH. We hope that the Parish Council will allow us to use the football field at the back of the recreation ground for parking, depending on the state of the ground — one of the helpers will guide you in. I expect we will again be asked to keep the front car park clear for visitors to the recreation ground while you're all away cycling. Wherever you park, please park considerately.
Due to the large numbers of entrants, if you could ride to the start instead of driving, or park outside the village and ride in, that would be an enormous help!
Refreshments
Light refreshments will be available before the start from about 7am. There will be hot'n'cold refreshments and cake at the finish. All refreshments at the start/finish are included in the entry fee.
On completion
The arrivée will be manned, so we will collect your brevet from you on completion, along with the single proof-of-passage from Melton Mowbray. Please remember to fill out the box with establishment name and time, and sign your brevet before handing it in with your PoPs!
Have a great, safe ride! Enter this event »