The Cambridge Pork Pie 200 and Spring Dash 100 post-ride report
What a brilliant day from our side, that was great fun! Thank you all for your great comments. Well done to all riders who started — audax is a great excuse for a long bike ride and it seems everyone had an enjoyable day out, even if for some it was distinctly type-two fun ;)
These events were over a year in the making — possibly the longest any pork pie has taken to make — with exploratory rides to scope out the routes and then working up to becoming a fully fledged organiser to run the events. We're already working on future events, including another 200 + 100 in September, a second slice of Pork Pie in March next year with a little twist, and hopefully the first of possibly two 300s next year as well.
To get early notice of future events, sign up to the Cambridge Audax email newsletter by emailing newsletter@camaudax.uk (your email address will be included in a secure list only used to inform you about Cambridge Audax news and events, and limited to just a few emails a year). Alternatively you can follow @CamAudax on Twitter, as well as CamAudax on Facebook. And if you have anything else you'd like to mention, email me.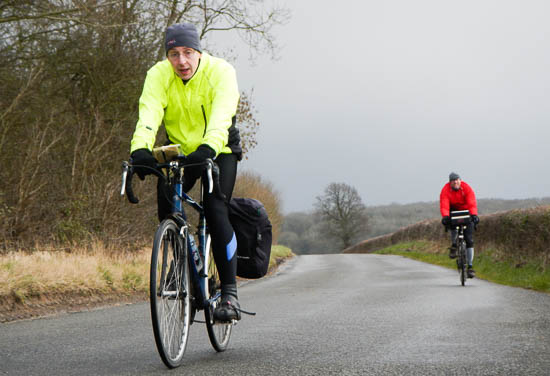 200 entries across both events and on the day 100 starters on the Pork Pie and 55 on the Spring Dash, with just 6 DNFs on the PP for various reasons —
a broken chain, two actually: both repaired, but one decided not to risk it in the hills and rode a flat 150miles on his own instead while the other rider finished;
legs not following the chain of command;
eyesight problems;
called in to work
and two went straight home, one for a dinner date which I knew about beforehand, and one didn't realise we'd still be waiting for them at 10pm … (non-member, EOL, so understandable)
The average rider age, calculated by Audax UK, was about 49 on the Pork Pie and 52 on the Spring Dash, not that it matters. The youngest rider was just 12 years old — he rode the full Pork Pie with his dad in a respectable 13h25, finishing just inside the time for his first 200km Brevet Randonneur and definitely feeling the distance in the final 50km, but not lanterne rouge — that honour went to a Cambridge rider who entered arrivée at a sprint exactly on the time limit as we were all collectively holding our breath! The oldest rider (whose age I'm aware of, anyway) is 74 in a couple of days' time and completed the Pork Pie 45 minutes quicker than I've ever managed to — my excuse being that I always carry pork pies back with me and it's the ballast that slows me down on the third stage … All riders on the Spring Dash were much more timely in their returns to arrivée with no time dramas at the end.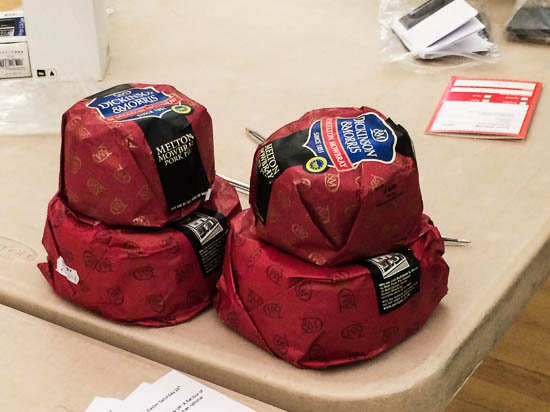 Reports from riders on both rides were really encouraging — as the first running of these events, I was worried the routes wouldn't be interesting/scenic/challenging enough, and it was great to hear to the contrary :) Riders on the Pork Pie reported some of the quietest roads and lanes they've ever ridden and were in almost unanimous agreement as to the lovely smoothness of the busway. A couple of riders specifically mentioned they enjoyed the NCN cross-field path between Godmanchester and Hemingford Abbots, popping out along a quiet street of mansions!
The pubs on the Spring Dash both ran the controls themselves and made everyone very welcome, which was brilliant of them and I'm very grateful to both Saleesha of The Tally Ho in Barkway and Lee of Bradman's in Withersfield for their warm reception and hospitality, and speedy stamping of brevets. Again riders reported they enjoyed the quietness and rolling nature of the route, along with the long zip from Balsham down to Fulbourn, and a lot of comments regarding tourists and shoppers in Cambridge city centre …
It's impossible to run such a large event on your own and I am indebted to all my helpers — Tom, Gareth, Ewa and the junior Ws, John and Alex. Also to Tom, Gareth and Kieron, who shared their thoughts and experience selflessly in the months leading up to this my first event. Also thanks to Sarah and George, both of whom phoned/texted ahead early in the morning from the flooded section of the Busway to let me know it was rideable at last. Thank you all. A special mention must go to Mrs W — Ewa, my long-standing audax widow, so to speak — who spent the entire week cooking and baking to make sure everyone had something hot and some cake when they finished their ride, thank you [blows a kiss]
It's not a race, but for those interested in such things, the first few riders back from the Pork Pie got around in just under nine hours, which is pretty good for a course that's just below AAA. That's also over an hour quicker than anyone riding the permanent version has ever managed, and at least two hours quicker than I've ever managed. Having said that, they all bounced the controls and so may not have enjoyed the full pork-pie experience … whereas some enjoyed the pork-pie experience a little too much and Nik came back with a shopping-trolley's worth of pork pies, sausages and other Melton Mowbray delicacies! And I particularly liked how one [name-withheld rider] managed to con [another name-withheld rider] into carrying four enormous pork pies back over all the hilly stuff for him!! ;)
On the Spring Dash, the first riders back took about five hours, while the last riders back definitely had starter, main and dessert at both pubs, finishing in about seven and a half hours — as a Brevet Populaire ride I was able to set a lower minimum speed to allow riders more time to enjoy the pubs ;)
I think it's a certainty you'll be able to have your second slice of Pork Pie this time next year :)
Note this write-up is an extended version of the one posted to yacf and to Facebook.