The Cambridge Autumnal 100 calendar event Enter this ride
9am, Saturday 17 October 2020, from the Recreation Pavilion, Girton, Cambridge (next to the church).
100km, 12.5 to 30kph (3h34m to 8h34m). 800m of climbing.
The old Audax UK season ends on 31 October, so if you're looking to get one last-gasp ride in for the season, as a prelude to keeping fit over winter, then this 100km event is an ideal taster to get you started — taking in fast TT-style main roads, with the smoothest tarmac in the country to narrow lanes with grass down the middle; back roads through forgotten villages and city centre streets in Cambridge, this route has it all.
IMPORTANT — this event will be run under a strict, covid-safe protocol throughout. You will be required to follow this protocol during the entire event for your own health and for those around you, and to stay within the law. See this page for the current protocol.
NOTE — this event will be limited to 30 riders only. It will be a car-park start and postal finish. Entries open at 10am sharp on Saturday 3 October. We expect the event to fill up quickly and will run a waiting list after.
Info — validation can be using receipts in the classic fashion. This year we are also able to offer "no-touch" validation using GPS, so you can carry a picnic and stay distant from other people — details will be sent to all entrants.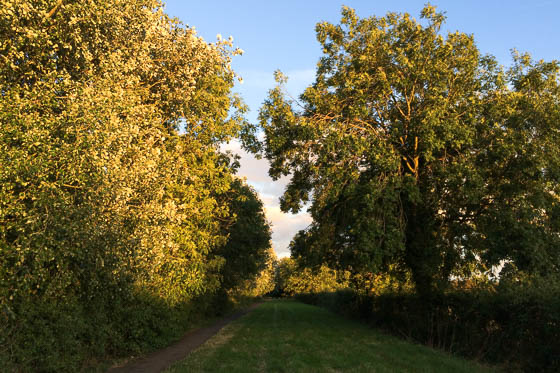 This is the fourth running of this lovely route around the meeting point of Cambridgeshire, Suffolk and Essex, climbing up onto the chalk hill range to the south of Cambridge and dancing gently through the valleys cut through by streams and brooks. The scenery in October will be one vista after another of autumn at its finest — open fields, freshly ploughed and ready for over-wintering, interspersed with mature broad-leaf woodlands golden and shedding all around. Just beware leaf litter on the road if it's damp on the day.
The route takes in a big loop via Great Thurlow, then to Thaxted; over the top through Debden to Saffron Walden for a bite to eat at the cyclist-friendly Bicicletta coffee con velo café-cum-bike-shop; and finally, after a couple of decent-sized climbs and an info control in Balsham, a long, 8km descent off the chalk ridge down to Fulbourn on the Cambridge plain.
This is the perfect opportunity to give your winter steed a decent warm-up ride on what's a straigthtforward route with several decent opportunities to stop on the way. The lower minimum speed means you have 8 hours 34 minutes to complete the ride, so you would have to try really hard not to make it around in time!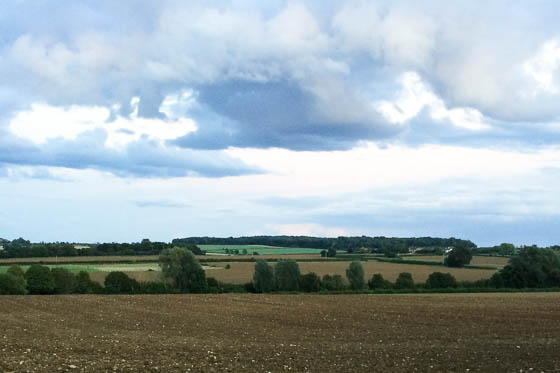 This will be a glorious ride, not too challenging, but still hard enough to bring a grin to your face. We'll be riding it on fixed-gear, our preferred all-year-round mount.
Cambridge is 50 minutes from London by train and most East Anglia rail services also pass this way. Girton is also very accessible by car. There will be cake at the finish.
Who knows — it might even be sunny!
The route
The route follows a mix of good, fast-rolling A roads, several quiet B roads, the rest comprised of very quiet lanes out at the far end of the course. The route passes through many traditional-build villages dotting the landscape, harking back to a simpler time.
The route heads east towards Newmarket before taking a south-easterly turn and rising up onto the chalk hills via the Six Mile Bottom climb. From there it's a gently rolling route to the first control at Great Thurlow. We'll be stamping cards at the first control, because the Post Office has since closed its doors (a few weeks before last year's event). Say 'hi!' to Alex as he stamps you through.
A dog-leg takes the route around Haverhill rather than through it and then it gets very laney for 30km or so before dropping into Thaxted, an Essex town of great historical importance. A garage or Post-Office stop, or altenatively any one of several pubs should be open, and there are at least two cafés we can think of.
Then it's the back road to Saffron Walden via the old villages of Debden Green and Debden, and entering Walden via the suburb of Pleasant Valley. Saffron Walden was built on the back of the trade in the saffron spice, which is still the most expensive spice by weight (closely followed by vanilla, believe it or not). The recommended control establishment is Bicicletta cyclists café, who are expecting you, but this is a free control and there are plenty of other cafés, shops and ATMs in Saffron Walden.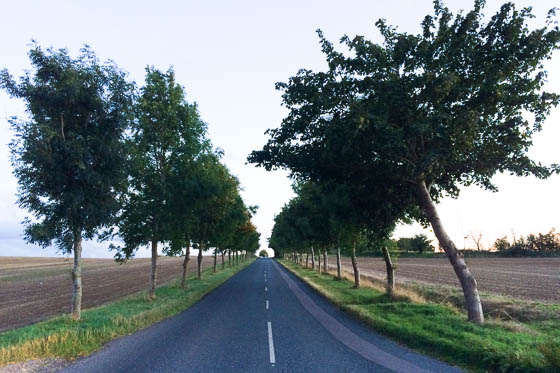 The final leg takes you up and over two significant climbs (for this area), first up and over to Linton and then up and over to Balsham for the ride's only information control. There follows a gentle-but-fast downhill off the chalk massif and back to Fulbourn and then Cambridge — always a crowd-pleaser and enjoyable to ride. The return through Cambridge either has half-decent cycle lanes the entire way from Cherry Hinton to Girton, or is 20MPH speed limit, so it may be busy, but it's also safe and surprisingly quick and easy. Just beware the tourists in the city centre itself — they really aren't expecting quick cyclists bearing down on them!
The controls
Start and finish at the Recreation Pavilion in Girton next to St Andrew's Anglican church on Cambridge Road, CB3 0FH, 3km northwest of Cambridge city centre.
There is one manned control and two commercial 'free' controls; you must get a suitable proof-of-passage (receipt or stamp) from a shop/café/pub/ATM at all three:
Great Thurlow, Suffolk — There used to be a Post Office and shop, but it has gone, so we will be stamping cards at the bus stop just beyond the old Post Office.
Thaxted, Essex — There is a Post Office and shop, several pubs, a couple of cafés.
Saffron Walden, Essex — The recommended control is the cyclist-friendly Bicicletta, who are expecting you, but you are free to choose anywhere else in Walden, and there's plenty to choose from.
Finally, there is one information control at the T-junction in Balsham. You should be able to remember the answer if you don't have a pen with you, the question won't be hard!
Toilets are available at the start/finish and behind the many hedges along the route. There is a public toilet in Walden opposite Bicicletta.
The routesheet
NOTE These are the latest update to the routesheet and GPS files, as of 10 October 2019.
There are two versions of the routesheet, depending on what you want: one has distances between instructions and holds your hand; the other contains just the turn-by-turn instructions with only as many distances as necessary for navigation and planning, as preferred by old-school audaxers: (updated 10 October 2019)
The GPS files
IMPORTANT — make sure you understand which version of the following GPS files are most suitable for your device.
Garmin Edge devices — new 500, new 700, 800/810/820, 1000, 1030 — use TCX; 10,000 points should be okay
The RideWithGPS IQ App also allows direct download from the pinned track to the latest Garmin Edge units
Older Garmin Edge devices — you're in a murky area in that TCX should work, but you may get a more reliable result from GPX; 10,000 points should be okay
Wahoo devices — TCX 10k, or "pin" the RideWithGPS route
Older Garmin devices — GPX and either 250-point or 500-point depending on which device.
Make sure you test these files out on your device before you start!
The full-route files are provided as a single TCX or GPX each. However, the rest of the GPS routes, where the route is split into multiple GPS files, are provided as a ZIP file for each format — you require all of the files in the ZIP file!
The routes are provided as follows:
a single route for the whole 100km — FULL;
There are additional notes in the organiser's notes and routesheet, including cautions and alternative routes. It is your responsibility to familiarise yourself with the route and any reported hazards before you start, especially as none of this information is included in the GPS files!
This is now where it gets complicated — there are a LOT of options here, sorted by how split up the route is, how many points in each part, and whether it's TCX or GPX.
---
Getting to the start
Hopefully you live close enough to cycle to the start — it would really help us if you didn't need parking, as there's a local football match on the same day!
Cambridge is well-served by train and you should be able to catch an early train from King's Cross or Liverpool Street stations, London, and arrive in plenty of time for the start — if you think you'll be a few minutes late to the start then please let us know on 07500 787785 and we'll wait for you. It's an easy 7km ride from the station to the start through the historic centre of Cambridge — routesheet | GPX | TCX — if you use these instructions, continue past the Co-op to the start on RHS in 1km next to the church. You should allow about 25-30 minutes to ride from the station to the start.
If you intend to drive, aim for St Andrews Church on Cambridge Road, CB3 0FH. We must keep the front car park clear for a local football match and for visitors to the recreation ground while you're all away cycling, made more imperative due to reduced capacity while works are on-going. We hope to park everyone on Ten-Acre Field at the back, where there's plenty of room. Wherever you park, please park considerately.
Refreshments
Light refreshments will be available before the start from about 8am, after the 200km ride has departed. There will be hot'n'cold refreshments and cake at the finish, included in the entry fee.
On completion
This is an x-rated event with a postal finish this year, in the current epidemic conditions within the UK, in order to keep everyone safe. You can validate your ride by classic receipts, or using GPS, in which case do the following:
Validating with receipts — fill out your brevet with establishment name of the receipt, and time. Then put your receipts together with your signed brevet and post them back to me.
Validating with GPS — write "GPS" in the first box inside your brevet, sign the reverse, and post it to me. Then send your GPS track to me via email to nick@camaudax.uk in whatever format you have it. I will also accept a link to your efforts on Strava or RideWithGPS. See here for more information about validating by GPS.
All brevets and GPS files must be received before the end of Saturday 24 October 2020 to be included in the results.
Have a great, safe ride! Enter this ride