The Cambridge Autumnals calendar events 2018 — Organiser's Report
It's a funny thing — or not-so-funny, depending on your point of view — that both of our events this year have been in weathery conditions. The Pork Pie and Spring Dash back in March were in subzero conditions with windchill taking another 5°C or so off that! At least the weather for The Autumnals wasn't quite so extreme, although for some it felt a lot worse.
"Audax is not an armchair sport and
it's definitely not a fair-weather sport"
It seems reasonable to repeat myself with the above self-quote from March
The day started fine, but brisk, with a stiff north-westerly blowing and the mercury hovering a few degrees above zero. Dawn was, however, clear and I found myself taking pictures of riders at the start straight into the rising sun — it looked to be a beautiful day for riding a bike. Unfortunately, the weather broke late afternoon and drizzle arrived, which quickly turned to full-on rain, testing the waterproofs and resolve of many riders, with a few near-succumbing to hypothermia!
If you missed it, information about the 200km event here and the 100km event here.
The Cambridge Autumnal 200km event
On the day, 86 riders set off on the 200km event, which was about 80% turnout, and 76 finishers — three riders classified hors délais — 'beyond time limit' — and seven clear abandons.
The day started so beautifully.
We turned up at the hall well before 7am to set up and already the first rider was there — he'd ridden over from Milton Keynes, leaving home around 2am to be with us on time!! 400km for the day for this chap!
Let's not mention the chap who I spotted wheeling his bike back to the car — after driving over from Northampton, an hour or more from Cambridge, he'd realised he'd forgotten to pack the bag with his shoes, helmet and bidons, oops! Or the text message from another lad who'd overslept and so missed out on the 2.5-hour drive to the start and had gone back to bed. Nor the plaintive email decrying the thieving b@st$rds who'd broken in and stolen their bikes the night before :(
Once set up, riders flooded in to register. After a brief chat I set them off just after 8am into breezy but clear conditions, almost perfect for a quick run to Framlingham. The first stage is 101km straight through, but nobody claimed their "foot-up" award this year!
Alex Brown, our inestimable helper, had set off 20 minutes beforehand, to position himself on the A1303 climb towards Newmarket to take pictures of riders in various states of gurn 15 kilometres from the start — his photos can be seen in all their gory on Flickr, here.
After some lunch at the turn, riders then swung back into that breeze for a somewhat chilly and challenging retour, via Maglia Rosso in Hawstead, where Our Alex was located in the warm to stamp their brevets as riders thawed out a little before the final push.
And what a push! The promised precipitation finally arrived to test everyone's resolve — and 'proofs — as they battled on the end of their reserves back to safety at Chez Girton, where we were waiting for them with plenty of Ewa's delicious soup and cake, and mug-fulls of tea and coffee to warm riders through.
Some riders clearly have some thinking to do on the efficacy of their waterproofs, as even experienced riders came back to us chilled through and borderline hypothermic — we had to help quite a number off with their gloves, and a few needed the silver-blanket treatment! No lasting effects, everyone warmed to Ewa's hospitality, and a few wangled lifts home to avoid a chilly ride, while others wrapped themselves in space blankets and ventured back out into the cold — bravo!
For one rider, last back before lantèrne rouge himself, this was the last 200km audax he said he's every going to attempt. After 12 years of riding 200s, Ultra SR (10 SR years), all the great events ridden, and nearly 120 straight months of RRTY, Rog has decided to call time. Fair dinkum — he started audax at 65 and was batting for 77 when he declared. I wouldn't be surprised if we still see him ride the odd 200 when the weather's fine — chapeau Rog, you'll be missed :)
Lantèrne Rouge himself came in on the dot — an indefatigable solo return into that chilly, rain-laden wind and taking a wrong turn on the way, but he pushed through to the end, nevertheless, bravo!
But let's not forget the two chaps who valiantly, but slowly, winched their way all the way back to Cambridge against that biting wind to successfully complete the course hors délais — chapeau! I marked their brevets as such and will return them as mementos. That's exactly what I said in March and it applies just as much to these two. There was a third who was before them, but still out of time, and he'll get his back marked hors délais too.
The Cambridge Autumnal 200 2018 finishers' list here.
The Cambridge Autumnal 100km event
65 riders started the 100km event, about 75% of entrants, and just two riders abandoned, everyone else making it back within the time limit. We always see a great effort from the 100km riders and everyone really tries to complete the ride — you're all stars!
I set the riders off after a short briefing at 9am into a bright and breezy day. Alex Brown, omnipresent photographer-cum-card-stamper, was already up the road waiting in the bus stop in Great Thurlow for riders to arrive, a bit chilled by all accounts and glad to see everyone — happier to have seen the last of them and get back on his bike to warm up!
A lovely cross-tailwind to the turn at Thaxted, there swinging back into the wind — a number of riders, most of them in fact, commented that the wind turned bitter on the return via Saffron Walden, with the stop at Bicicletta being a welcome opportunity to warm up! The climb over Hadstock and then up from Linton Balsham being decent leg-warmer-uppers to the info control, before turning full head-on into That Wind to really earn Ewa's hot soup and delicious cake.
Some of the slower riders got caught in rain showers on their way back through Cambridge and got back to us somewhat chilly, but it didn't take much to warm them through.
An interesting mix of riders on the 100. The rider of the day has to be young Toby at ten years old — and featured in Arrivée magazine a couple of issues back. He finished with 20 minutes still on the clock for his third 100km brevet — grand chapeau! — big hat for that lad! Honourable mention in the 'up and coming stakes' also goes to young Ms A, who, at 14, completed her first 100 — apparently she found the conditions after the turn challenging and wouldn't stop mentioning it, but by Monday was laughing about it and is, apparently, looking forward to her next one — that's the spirit!
We also saw a very large proportion of female riders on the 100km event — better than a third of entrants! Ewa and I are delighted by this, especially as so many of them looked like they had thoroughly enjoyed themselves. We sincerely hope you did enjoy yourselves and that we'll see you all again on future events :)
And the gent who finished hors délais in March finished well in time this time, showing his grandchildren that he's still got it ;)
The Cambridge Autumnal 100 2018 finishers' list here.
The Event HQ — Arrivée
Our day started early and went on late — six in the morning through to midnight — with a brief respite for brunch after sending riders on their way. It is always like this for us on event-day.
The morning is always a squeeze, as we have to get 150 riders parked up (although we had fewer people driving to the start this time compared to previous events — good to see!), registered for the two events, make sure they've got their brevets and then set them off. Time is of the essence, and the team is incredibly focused on their individual roles for a nervous couple of hours. Cars parked, brevets signed, brief briefing given and riders away.
The afternoon is a much more relaxed affair — time is no longer pressured, as riders return in dribs and drabs. There are the inevitable occasional crushes as larger groups return at the same time, but mostly riders come back in twos and threes and the team can kick back and enjoy the ride vicariously listening to others' tales of the road. And there were some tales to tell!
Generally the talk was about the wind. And the cold. And how cold the wind had been. And how the rain was heavy; and wet. And how wet clothes in a cold wind extract body heat so quickly!
The 100km riders had a cross-tailwind all the way to the turn at Thaxted. Then they turned back into the teeth of it, and it was cold! Many riders on the 100 were new to audax, and this was their first event, so they were not necessarily ready or able to maintain a higher tempo for the full 100km to keep warm, and were somewhat lacking in heat on their return.
The 200km riders also had a cross-tailwind all the way to Framlingham — 100km stage in one go. After the turn they were faced with stiff conditions, as many had expended their energy in the fun times and not saved much for the return. By the time many got back to Maglia Rosso, the rain had started and they were c-c-c-cold. Stepping out of the warmth for another two-to-three hour ride in the rain with a chilling headwind takes some gumption, and I'm delighted to say that almost everyone stuck with it and returned to us — barring a few locals, who were more tempted by a hot shower as they passed their front door than Ewa's hot soup and cake.
Slower riders — or riders who enjoyed the café stops longer than others — found themselves getting a drenching towards the end of both events. Although I would like to think that inexperience or lack of good 'proofs played a part in the extreme effect of the conditions, we saw 100km and 200km riders, newbies as well as experienced audaxers all return in a similar, near-hypothermic state! We helped several off with their gloves and got them settled in with Ewa's deliciously hot soup, and we saw many more being helped by other riders. A few required the tin-foil treatment as well.
The key to cold weather, I think, is to keep the big muscles working — as warm-blooded beings, if we can generate heat in one part of the body, it soon gets moved around to the rest; but keeping up that level of effort for six or seven hours can be a struggle if you're not used to it. Everyone was glad of the warm hall — so warm, in fact, that the team were working in t-shirts and suffering from dehydration by the end, but necessary for the riders coming in from the cold.
Young Toby got a cheer as he came back in, pleased with his efforts and to the relief of his Mum. After 20 minutes he looked like he was ready to go again!
The last few riders on the 200 scraped in right on the limit, with just three left on the road — one Cantabridgian who should learn to set his alarm 20 minutes earlier so he starts on time with everyone else (you don't get that time back at the end!), and a pair who got lost on the final leg and rode in an hour out-of-time — all three will get their brevets back, marked 'hors délais' but not validated, as they completed the course, but not within the time.
The last back often have the hardest time on the road and so we make a special effort to look after them just as well as everyone else, even long after the control has closed — they have at least as much need for hot soup and sweet cake as anyone else, probably more-so. Saturday was no exception, although it was a close-run thing, as so many riders had needed to spend so long warming up that we very nearly ran out — we usually take several whole cakes and a gallon or two of soup home, but not this time, you nearly finished the lot!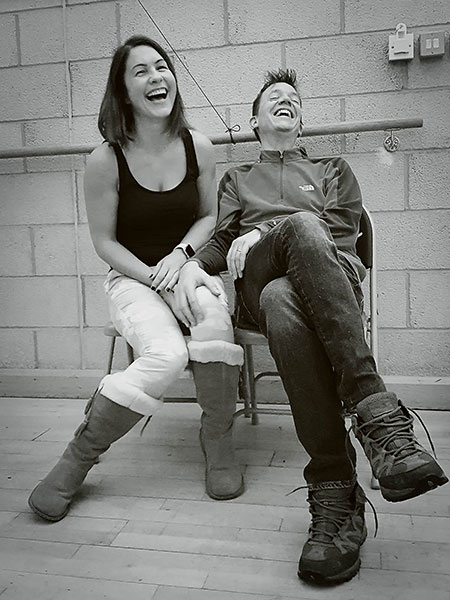 The event ends, as always, with us spending an hour or two clearing the hall after riders have left, tidying the kitchen, and packing all of the equipment back into the team car. By the time I had swept the hall and locked up, it was midnight. Sunday was then a day of unloading the car, making notes of what had been used, endless washing up, and re-packing everything for storage until the next event. And the admin takes longer still.
As always, it is impossible to run an event in the style that we choose to do it without some serious and significant commitment from the team of dedicated helpers — a heart-felt Thank You to Alex W in the car park in the morning and helping with hospitality in the afternoon, Ben W on the desk all day, Alex Brown making an appearance first in the car park on the field, then on the A1303 taking photos, then in Great Thurlow stamping cards on the 100, and finally at Maglia Rosso stamping cards on the 200, before making his own damp retour to claim his slice of Ewa's chocolate and banana cake — chapeau!
And finally, and most deeply, my thanks go to Ewa, who cooks and bakes for days before the event, making all the soup and cake that riders enjoy so much, and who looks after all the riders all day long and makes everyone feel so special — Thank You! x
Some ride reports
Most of the reports appear or are linked from yacf here.
Photos from the event