Cambridge Suffolk Eye-full 200 Perm Enter this ride
This is a permanent ride and can be ridden at any time.
200km, 14.3 to 30kph (7h to 14h). 1700m of climbing.
Eye is a small island in the middle of East Anglia, a kingdom once drowned in marshland and mystique — yes, seriously, Eye used to be an island! Eye is now in the county of Suffolk, a sleepy place imbued with the feeling of times past.
Riding permanent events in covid times
Audax UK has imposed restrictions on how many riders can ride any single permanent event on any single day: currently there is a limit of six riders per day on any perm. This rules applies in all four administrative zones of the UK and is in line with British Cycling's current advice. Check with Nick before riding that there is available space on the road. More information is here.
Riders must adhere to Audax UK's Covid-19 Behaviour Code.
(updated 5 May 2021)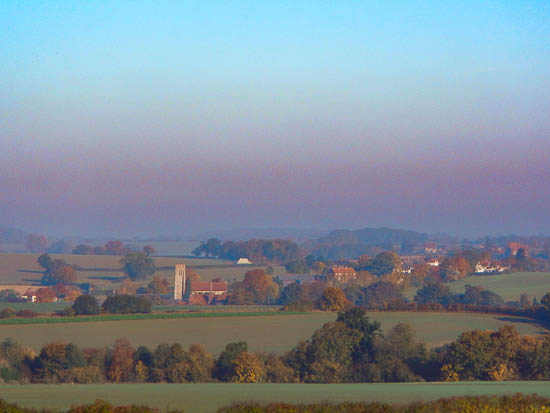 The town of Eye itself is greatly historic, dating back to Roman times and due to a dust-up with Diss over the routing of the mainline — which it lost — Eye has remained a quiet backwater and consequently a very pleasant town to visit on a bike. When I was last there, several groups of cyclists rode through while I was eating lunch.
This ride covers a lot of rolling countryside before you have to get your feet wet to gain that elusive proof-of-passage (okay that's a joke, but there are definitely hills on the way there; the marshes have been long-drained). You'll spend most of your journey in Suffolk, climbing through Essex for a few miles and the rest is through Cambridgeshire.
This route heads from Cambridge to Glemsford taking advantage of the unusual control location to ride much quieter lanes. It then doubles back a couple of kilometres before heading past the Maglia Rosso cyclists' café and shop in Hawstead and going cross-country to Eye, avoiding almost all main roads.
Turning back from Eye, the route heads further south and passes through the beautiful village of Lavenham, with its amazing half-timbered buildings and 15th-century church — it's well worth turning left into the village square for a cream tea at the National Trust café, if you have time!
A sneaky diversion around Sudbury and it's a very laney route to Great Yeldham, with its ancient Great Oak on the road junction. And then, for the fun of it (and because it's a much nicer route) it's a decent climb (for these parts) back up to Balsham to enjoy the 8km straight descent to Fulbourn and back into Cambridge.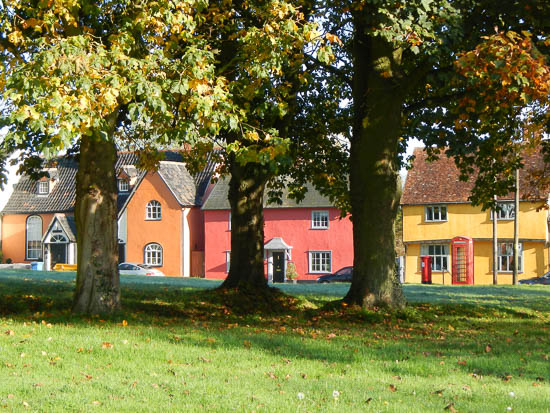 I say it every time: East Anglia is full of history and you'll see many ancient churches, old thatched cottages, half-beam houses, flint walls, country homes and the like. And if you like your views with a sense of "big" then the skies around the eastern end are truly so!
The route
Starting from the very centre of Cambridge, the route takes the swift road towards Newmarket, but bears right shortly after Stow-cum-Quy to climb the chalk escarpment from Six-mile Bottom to Brinkley. From there it's a couple of dog-legs and some noticeably rolling countryside to get to the village control of Glemsford.
The route then doubles back on itself a couple of kilometres and turns right and heads cross-country to Hawstead, where a pub was recently converted into the Maglia Rosso cycling centre and café and has quickly established itself as a Mecca for cyclists in the locality and worth a stop if you have time.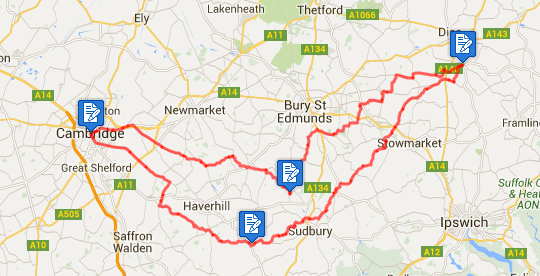 The route continues across the grain of most of the main roads, zigzagging gently across the now less-undulating landscape with incredibly open views, eventually delivering you to Eye.
Exiting the way you came in, after a couple of kilometres the route takes you southwards and through a series of picturesque villages, including the castle village of Haughley, under the A14 and along quiet back lanes and roads to Lavenham, where there are plenty of cafés worth stopping at, if you should be so inclined.
Onwards and avoiding Sudbury town, the route enters Essex and immediately starts to roll more noticeably until you get to the control in Great Yeldham. From there a series of steady climbs take you to the high point of 123m at Castle Camps, before a 5km descent, and then another gradual climb up to Balsham at 116m for an 8km descent back down to the Cambridge plain at about 10m ASL.
IMPORTANT If you rely on the GPS track for navigation then you must familiarise yourself with the two short double-backs, one into the first control at Glemsford, and one into the second control at Eye — if you miss either control then your ride won't be validated! You will be fine if you follow the routesheet.
The route hasn't been tested in cold weather and caution should be applied should you choose to ride it in icy conditions.
The controls
Start and finish in the centre of Cambridge, opposite the entrance to John Lewis on Emmanuel Street (the bus station). Grab a receipt from a cash machine or any shop within 100m. If you leave your bike then you will need a good lock with you!
The controls of Cambridge and Eye are serviced 24-hours with cash machines or better. However, the controls of Glemsford and Gt Yeldham are basic village controls with corner shops and pubs to provide 7-11 service only and riders should account for this in their start time.
Alternatively you can start at any control on the route and ride in either direction. If you wish to start at a point on the route between controls, please confirm with the organiser first.
Toilets are available in Cambridge and Eye, or behind the many hedges on the route (where there are hedges).
The routesheet and GPS files
There are two versions of the routesheet, depending on what you want: one has distances between instructions and holds your hand; the other contains just the turn-by-turn instructions with only as many distances as necessary for navigation and planning, as preferred by old-school audaxers: (updated 2 November 2015)
There are several versions of the GPS files, depending on your device and preference: TCX files provide turn-by-turn in Garmin Edge devices; GPX files provide a track to follow on-screen on all devices and is more universally compatible, although older devices need tracks with fewer than 500 points: (updated 2 November 2015)
Getting to the start
Hopefully you live close enough to cycle to the start, but if not then park in one of the residential areas near the city centre and cycle in. There is no cheap, all-day parking in the centre of Cambridge!
Cambridge is well-served by train, and it's an easy 2km ride from the station to the historic centre of Cambridge — just turn right at the end of Station Road and keep going straight ahead until you see John Lewis.
Before you start
It is a requirement that you notify the organiser of the date of your ride for validation and insurance purposes — a text or email is sufficient.
On completion
When you have completed the ride, write the control establishment names and times on the brevet, complete your details on the reverse and then send your brevet card and receipts to the organiser (details are on the routesheet). And please remember to sign your brevet!
Have a great, safe ride! Enter this ride