Cambridge Four Counties 200 Perm Enter this ride
This is a permanent ride and can be ridden at any time.
218km, 14.3 to 30kph (7h16m to 15h14m). 1450m of climbing.
Cambridgeshire is surrounded by some interesting counties: Bedfordshire, Northamptonshire and Buckinghamshire plus Cambridgeshire. Nowhere too vertiginous or excessively scenic, but lovely nonetheless. Compared to the flatness of most of Cambridgeshire, the surrounding counties are fascinating.
At least a quarter of the route is pan-flat, with a couple of significant climbs out at the far end. This route also passes straight through the centre of Milton Keynes, which is an experience: it's like a small American city dropped into the north-eastern corner of Buckinghamshire. Bedfordshire and Northamptonshire provide some laney, lumpy interest with surprisingly remote and rural lanes connecting the controls, before the return to the plains of Cambridgeshire.
Riding permanent events in covid times
Audax UK has imposed restrictions on how many riders can ride any single permanent event on any single day: currently there is a limit of six riders per day on any perm. This rules applies in all four administrative zones of the UK and is in line with British Cycling's current advice. Check with Nick before riding that there is available space on the road. More information is here.
Riders must adhere to Audax UK's Covid-19 Behaviour Code.
(updated 5 May 2021)
This is a great all-season 200, especially into a south-westerly breeze, which will blow you back to the start. In deep winter there is an alternative route that uses quiet but gritted main roads rather than lanes to reduce the risk from ice — ask the organiser.
There are plenty of pubs and cafés along the route to break up the ride.
The route
Starting from Girton on the northern edge of Cambridge, this ride heads north-west to St Ives and on to Huntingdon, before turning westwards towards Grafham Water. After circumventing wet feet, the route heads west-by-south-west midway between the River Nene and the River Great Ouse: this south-Midlands hinterland is suprisingly rural and remote, considering its proximity to Wellingborough and Northampton to the north, Bedford to the south and Milton Keynes to the east.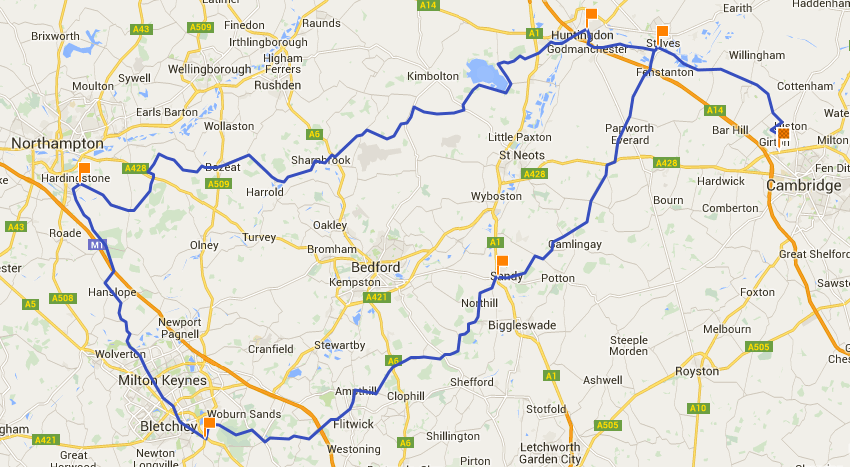 The route climbs gently through rolling countryside, passing through Bedfordshire into Northamptonshire before the turn southwards at Northampton. You'll then head due south into Buckinghamshire and through Milton Keynes, famous for its roundabouts (you'll cross something like 20 of them!). After a brief respite just after MK, you'll then head into the grand climb of the day: Church Road, Bow Brickhill; this is a 1-in-8 slog up an ancient right-of-way back into Bedfordshire: very satisfying.
The route becomes scenic again with a climb through Woburn Park and the terrain rolls gently downhill to Sandy, before climbing up onto the Cambridgeshire plateau (it's not all flat in Cambridgeshire) and falling back down to St Ives. A swift 15km spin across the dead-flat fenland brings you back home to Cambridge.
This route is slightly over-distance, but the pan-flat 30km at either end of the ride mean that nobody should be putting the generous time limit under any pressure.
The controls
Start and finish at the Co-Operative at 120 Girton Road, Girton CB3 0LW, opposite Weavers Field (07.00-22.00), which is close to ample car-parking. You can also use the BP Garage/Spar on Huntingdon Road, CB3 0LQ, which is open 24-hours and has a toilet.
Alternatively you can start at any control on the route and ride in either direction. If you wish to start at a point on the route between controls, please confirm with the organiser first.
The controls are well-serviced, commercial controls with 24-hour provision — Girton, Huntingdon, Wootton Fields (Northampton), Watling Street (Milton Keynes), Sandy. Wootton Fields is a Co-op and 24-hour cash-point.
Toilets are available in all control locations except Wootton Fields, or behind the many hedges on the route.
The routesheet and GPS files
There are two versions of the routesheet, depending on what you want: one has distances between instructions and holds your hand; the other contains just the turn-by-turn instructions with only as many distances as necessary for navigation and planning, as preferred by old-school audaxers: (updated 6 September 2015)
There are several versions of the GPS files, depending on your device and preference: TCX files provide turn-by-turn in Garmin Edge devices; GPX files provide a track to follow on-screen on all devices, although older devices need tracks with fewer than 500 points. They're all here, although you only need to download one: (updated 17 April 2015)
IMPORTANT: the route uses the same there-and-back section along the Cambridge Guided Busway to St Ives and so the GPX track diverges after crossing the bridge in St Ives. You must make sure you follow the correct route: the correct forwards route is to turn right at the crossroads to The Hemingfords; if you turn left by mistake then you will probably have missed a control (St Ives), as you'll then be riding the route in reverse. Riders have made this mistake; don't join them!
Getting to the start
Hopefully you live close enough to cycle to the start, but if not then park in Girton north of the A14 — there is a public car park at the recreation ground next to the church in Girton. Alternatively, park in any side road — Pepys Way, Hicks Lane and Mayfield Road are close and safe.
Cambridge is well-served by train, and it's an easy 6km ride from the station to the start control through the historic centre of Cambridge (routesheet | GPX | TCX).
Before you start
It is a requirement that you notify the organiser of the date of your ride for validation and insurance purposes — a text or email is sufficient.
On completion
When you have completed the ride, write the control establishment names and times on the brevet, complete your details on the reverse and then send your brevet card and receipts to the organiser (details are on the routesheet). And please remember to sign your brevet!
Have a great, safe ride! Enter this ride