Cambridge Diss'd Clare 200 Perm Enter this ride
This is a permanent ride and can be ridden at any time.
200km, 14.3 to 30kph (7h to 14h). 1330m of climbing.
Diss is a small, picturesque and historical market town on the southern edge of Norfolkshire, with buildings dating back to at least the 1500s. The route through the town centre and the market provides a view of the traditional styles, inevitably butted up against more modern architecture.
Clare is an old wool town in Suffolk with roots going back to the time of William the Conqueror. It has more listed buildings — many of timber-frame — than almost anywhere in Suffolk. Clare has the only in-use cast-iron bridge in Suffolk, although we don't cross it on this ride. It also has a castle, dating back to the 13th century.
Riding permanent events in covid times
Audax UK has imposed restrictions on how many riders can ride any single permanent event on any single day: currently there is a limit of six riders per day on any perm. This rules applies in all four administrative zones of the UK and is in line with British Cycling's current advice. Check with Nick before riding that there is available space on the road. More information is here.
Riders must adhere to Audax UK's Covid-19 Behaviour Code.
(updated 5 May 2021)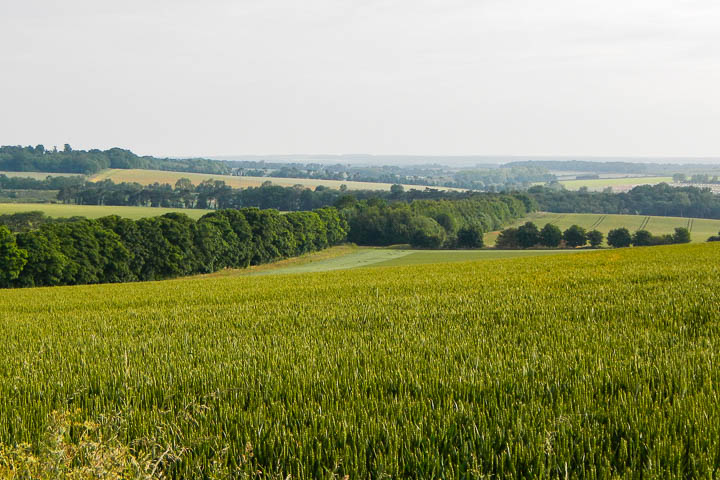 Anyway, this isn't a history lesson — it's a bike ride!
This route heads from Cambridge to Diss and then to Clare via Debenham and Elmswell through some really lovely countryside. The first third of the route to Diss is notably flat after Barrow, and is definitely of the "big skies" variety, crossing huge open fields with nary a hedge to obscure the view but with the occasional ancient woodland as a contrasting counterpoint. The second third to Clare is a little more enclosed through ever-so-slightly rolling countryside, with the dog-leg to Debenham providing a second opportunity for a cup of tea after Diss.
I thought it was a great route with perfectly distanced controls.— Simon, November 2015
From Clare, which is as quaint as they come, it's back into some rolling territory to climb to the top of the chalk escarpment that runs past the southern edge of Cambridge and you get a 10km downhill spin back into Cambridge — a real treat around these parts!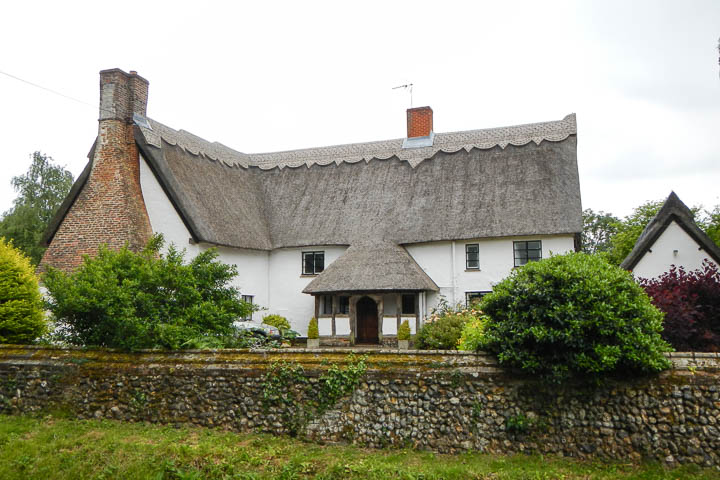 As usual you will pass a number of old halls and lodges, some very close to the road. There are flint churches, hidden villages and the feeling you're riding untrod paths (it just feels that way, we've already trod them). The route can feel quite isolated in places, with small, sleepy hamlets coming and going to punctuate what is a very relaxing route suitable for contemplating Life's Mysteries.
---
The route
Starting from the very centre of Cambridge, the route takes the swift road to Newmarket before bearing right and climbing up and over to Dalham and then up and over to Barrow, which is the first control. There's a small climb out of Barrow before the route heads out across the wide-skies territory just north of Bury St Edmunds to Diss.
After a nice cuppa in any of Diss' fine tea rooms, the route brings you southwards along more hedged-in lanes to the lovely town of Debenham, where a second cuppa, or indeed any sort of beverage, can be had.
Back into the lanes and over the top to Elmswell, this leg feels very exposed, particularly if there's a westerly blowing, and for a while it feels as if there's nowhere to hide! But on a sunny day it's simply glorious.
The route from Elmswell to Clare becomes decidedly more laney and rolling and you'll appreciate a few minutes off the bike to admire the architecture and refresh yourself — there are excellent pubs in Clare.
The final leg takes you up a steady series of climbs the back way into Withersfield and then up and over the top at Balsham with a long downhill in two parts to the Cambridge plain and back to arrivée.
This route is slightly over-distance, but the lack of any serious climbing and with none of the relentless rolling you would find in Essex then you shouldn't be at all worried about it.
The route is reasonable in cold weather and parts have been ridden in actual falling snow and were fine. We would recommend main roads in very cold weather — ask the organiser for details.
The controls
Start and finish in the centre of Cambridge, opposite the entrance to John Lewis on Emmanuel Street (the bus station). Grab a receipt from a cash machine or any shop within 100m. If you leave your bike then you will need a good lock with you!
Alternatively you can start at any control on the route and ride in either direction. If you wish to start at a point on the route between controls, please confirm with the organiser first.
The controls are all well-serviced, commercial controls during the day with some overnight limitations: Cambridge, Barrow, Diss, Debenham (cash machine, police station overnight), Elmswell (cash machine, fire station overnight), and Clare. All the controls are well-serviced with either cafés or pubs (or both), except Barrow, which has two convenience stores and a pub. If you intend to control in Barrow out-of-hours then please confirm with the organiser before you start.
Toilets are available in Cambridge, Newmarket, Diss, and Clare, or behind the many hedges on the route (where there are hedges).
---
The routesheet
There are two versions of the routesheet, depending on what you want: one has distances between instructions and holds your hand; the other contains just the turn-by-turn instructions with only as many distances as necessary for navigation and planning, as preferred by old-school audaxers: (updated 9 June 2021)
Download the routesheet
---
The GPS files
IMPORTANT — make sure you understand which version of the following GPS files are most suitable for your device.
Garmin Edge devices — new 500, new 700, 800/810/820, 1000, 1030 — use TCX; 10,000 points should be okay
The RideWithGPS IQ App also allows direct download from the pinned track to the latest Garmin Edge units
Older Garmin Edge devices — you're in a murky area in that TCX should work, but you may get a more reliable result from GPX; 10,000 points should be okay
Wahoo devices — TCX 10k, or "pin" the RideWithGPS route
Older Garmin devices — GPX and either 250-point or 500-point depending on which device.
Make sure you test these files out on your device before you start!
The full-route files are provided as a single TCX or GPX each. However, the rest of the GPS routes, where the route is split into multiple GPS files, are provided as a ZIP file for each format — you require all of the files in the ZIP file!
The routes are provided as follows:
a single route for the whole 321km — FULL;
The routes will appear as DISSD_… on your device.
There are additional notes in the organiser's notes and routesheet, including cautions and alternative routes. It is your responsibility to familiarise yourself with the route and any reported hazards before you start, especially as none of this information is included in the GPS files!
This is now where it gets complicated — there are numerous options here, sorted by how split up the route is, how many points in each part, and whether it's TCX or GPX.
---
Getting to the start
Hopefully you live close enough to cycle to the start, but if not then park in one of the residential areas near the city centre and cycle in. There is no cheap, all-day parking in the centre of Cambridge!
Cambridge is well-served by train, and it's an easy 2km ride from the station to the historic centre of Cambridge — just turn right at the end of Station Road and keep going straight ahead until you see John Lewis.
Before you start
It is a requirement that you notify the organiser of the date of your ride for validation and insurance purposes — a text or email is sufficient.
On completion
When you have completed the ride, write the control establishment names and times on the brevet, complete your details on the reverse and then send your brevet card and receipts to the organiser (details are on the routesheet). And please remember to sign your brevet!
Have a great, safe ride! Enter this ride