Cambridge Chilterns Tourist 100 Perm Enter this ride
This is a permanent ride and can be ridden at any time.
100km, 12.5 to 30kph (3h20m to 8h). 900m of climbing.
This is a nice, vaguely lumpy, away-from-the-traffic 100km loop, starting near Cambridge, and taking in some of the Chilterns features east of the A1(M). Being a short loop, this route makes an ideal off-season training ride, or a step-up ride for those dipping their toes into this audax mallarkey.
Riding permanent events in covid times
Audax UK has imposed restrictions on how many riders can ride any single permanent event on any single day: currently there is a limit of six riders per day on any perm. This rules applies in all four administrative zones of the UK and is in line with British Cycling's current advice. Check with Nick before riding that there is available space on the road. More information is here.
Riders must adhere to Audax UK's Covid-19 Behaviour Code.
(updated 5 May 2021)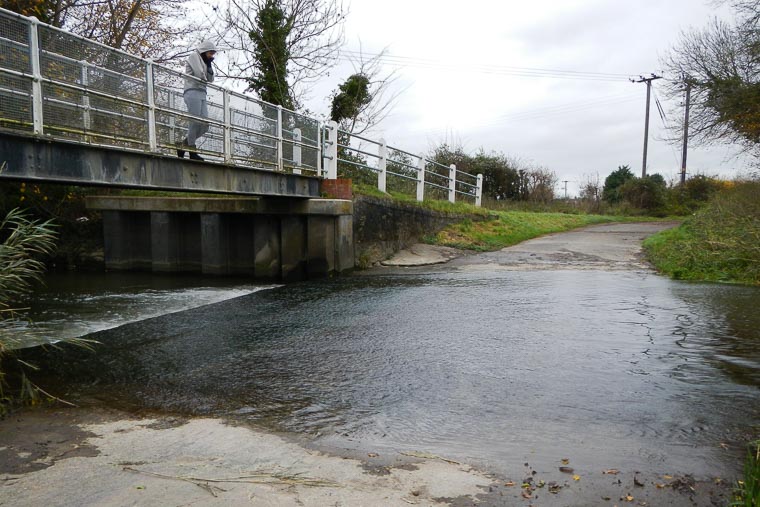 Cambridge is famous for its flatness, but in fact it sits just on the edge of the Chilterns Massif, which extends all the way from Wiltshire, through the area traditionally thought of as "The Chilterns", which itself is an AONB, and stretches all the way east through south Cambridgeshire, before looping north towards the Lincolnshire Wolds. The many flint walls are testament to the fact that this is a chalkland area, and these building features are shared right along the Chilterns range.
This route starts from Great Shelford, just south of Cambridge, in order to minimise the distance wasted on the flat. The climbing starts, after a quick 10km warm-up, at the quaintly named — and indeed it is quaint — village of Ickleton with the climb up Grange Road then Quickset Road to the giddy heights of Elmdon and the start of some lovely, quiet, rolling countryside. None of the hills are what one might call hard, but the actual climbs can be a little stiff in places, as the route follows ancient byways.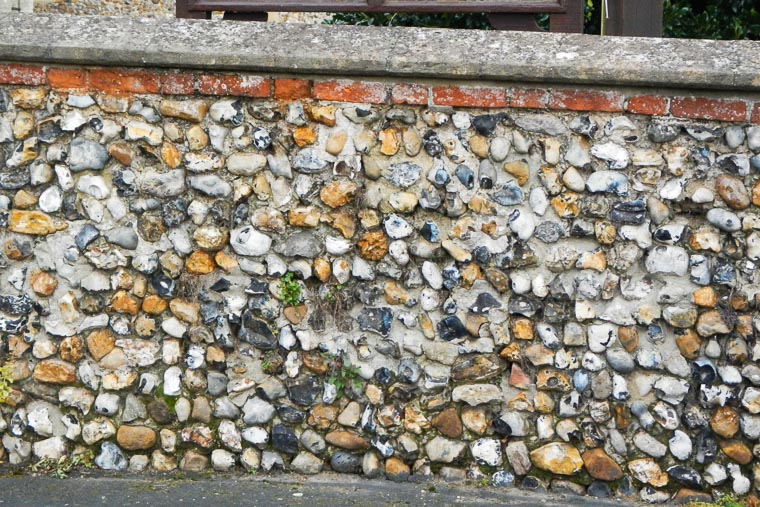 There are several wet-foot crossings to add interest — you are welcome to walk your steed over the adjacent footbridge in each case, but where's the fun in that? Actually, if you do decide to ride through, then be warned that the ford before Hinxton is somewhat slippery, as it doesn't see anywhere near the traffic the ford near Barwick sees, to scrub the algae off the concrete; the ford after The Bull public house is usually dry and so is usually grippy in the wet.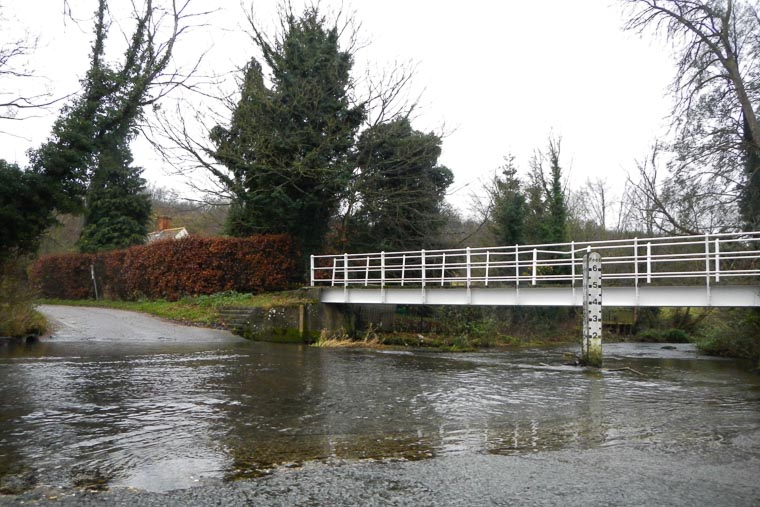 The road from Stocking Pelham to Much Hadham is a classic north-south cyclists' route, as is the parallel road from Walkern to Rushden. You are never particularly far from civilisation, yet the route feels remote in places, a delightful sojourn from our busy, bustling lives.
Much Hadham has been repeatedly awarded "Hertfordshire's Best Kept Village" and it's easy to see why — take a few minutes to soft-pedal and admire the traditional buildings and calm atmosphere.
The route
This clockwise route starts from Great Shelford, just south of Cambridge, in order to waste as little distance as possible on the flat plain before starting to climb. There's a short stage to start, on the flat, including an optional fording of the River Cam, looping through the picturesque village of Hinxton, before controlling in the quaint Ickleton.
The climbing starts immediately after with a couple of significant climbs (for Cambridge) before a steady, gently-downhill run to the first control at Much Hadham, "Hertfordshire's Best Kept Village". There are numerous options to get proof-of-passage, our favourite being the café at Hopleys Plant Centre.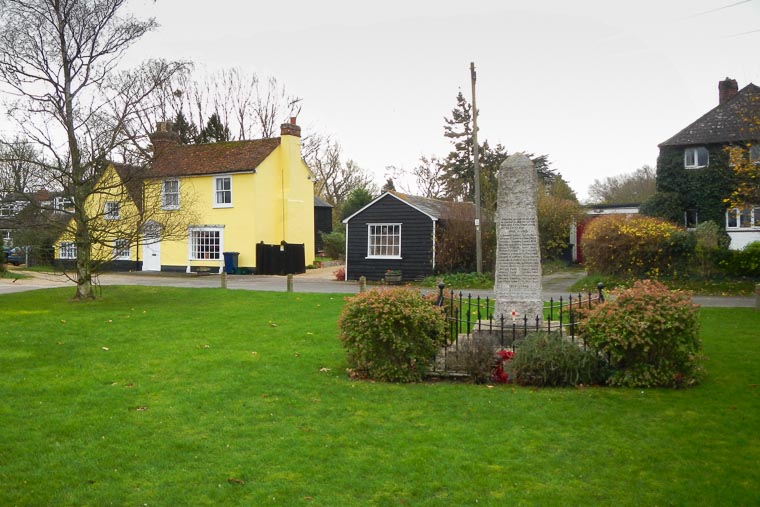 From Much Hadham the route turns west and then north, skirting Stevenage to control at the stores or pubs in Walkern. Onwards north, before turning back north-east and descending the chalk escarpment via Chrishall Grange and returning to civilisation via Duxford.
Important notes
This route is significantly agricultural in places due to the nature of the ancient roads often being lower than the surrounding fields and so suffer from run-off when the weather's heavy. You are strongly advised to use mudguards in all but the driest of seasons.
Chalk is associated with flint: it's a geological fact. You should expect any gravel in the lanes to include plenty of flint and so you should consider puncture-resistant tyres a requirement — skinny racing tyres may be more trouble than they're worth on this route.
This route is known to suffer from ice in extremely cold spells! You are strongly advised to take extreme care when adventuring out during winter!
The controls
Start and finish in Great Shelford, 5km south of Cambridge city centre — there's a Co-operative and Lloyds Bank (ATM), as well as a Tesco Express, café and other amenities; the Post Office has since closed. Aim for High Street, Gt Shelford CB2 3EH.
There are three controls:
Ickleton — There is a Costcutter village store, but opening times are somewhat limited. I will accept a selfie outside the store, or other recognisable Ickleton feature as brevidence when the store is closed. GPS-validation is also acceptable.
Much Hadham — There is a garden centre and café — Hopleys — on the right-hand side as you pass through the village — blink and you'll miss it, though, as it doesn't look anything like a garden centre! There's also a village store and a pub. There's even a forge museum — ironwork as brevidence, now there's a thought!
Walkern — The village store is on the RHS as you climb through the village. Again, when the store is closed then a recognisable selfie or GPS-validation are acceptable.
You can start at any control on the route and ride in either direction, but note the limited opening times of Ickleton and Walkern controls. If you wish to start at a point on the route between controls, please confirm with the organiser first.
The routesheet and GPS files
There are two versions of the routesheet, depending on what you want: one has distances between instructions and holds your hand; the other contains just the turn-by-turn instructions with only as many distances as necessary for navigation and planning, as preferred by old-school audaxers: (updated 20 October 2018)
There are several versions of the GPS files, depending on your device and preference: TCX files provide turn-by-turn in Garmin Edge devices; GPX files provide a track to follow on-screen on all devices and is more universally compatible, although older devices need tracks with fewer than 500 points. They're all here, you only need to download one: (updated 20 October 2018)
Getting to the start
Hopefully you live close enough to cycle to the start, but if not then park in one of the residential areas near High Street, and there is a free car park in Woollards Lane just off High Street, Gt Shelford CB2 3EH.
Cambridge is well-served by train, and it's an easy 6km ride via the Busway and the DNA Cycle Path to Great Shelford.
Before you start
It is a requirement that you notify the organiser of the date of your ride for validation and insurance purposes — a text or email is sufficient.
You should check your brakes and resolve any issues before you start — some of the descents are steep with blind corners!
On completion
When you have completed the ride, write the control establishment names and times on the brevet, along with the answer to the info-control question provided by the organiser, complete your details on the reverse and then send your brevet card and receipts to the organiser (details are on the routesheet). And please remember to sign your brevet!
Have a great, safe ride! Enter this ride
Note that all photos on this page were taken by Nick Wilkinson on a ride in December 2015.