Cambridge Chilterns Pathfinder 200 Perm Enter this ride
This is a permanent ride and can be ridden at any time.
202km, 14.3 to 30kph (7h to 14h). 2400m of climbing.
The Chiltern Hills are well known as a playground for cyclists looking for a bit of a vertical as well as a horizontal challenge. The area is blessed with its "Area of Outstanding National Beauty" (AONB) status, which means there's some protection for the landscape, such that it retains much of its peacefulness and the views are largely unspoilt.
Riding permanent events in covid times
Audax UK has imposed restrictions on how many riders can ride any single permanent event on any single day: currently there is a limit of six riders per day on any perm. This rules applies in all four administrative zones of the UK and is in line with British Cycling's current advice. Check with Nick before riding that there is available space on the road. More information is here.
Riders must adhere to Audax UK's Covid-19 Behaviour Code.
(updated 5 May 2021)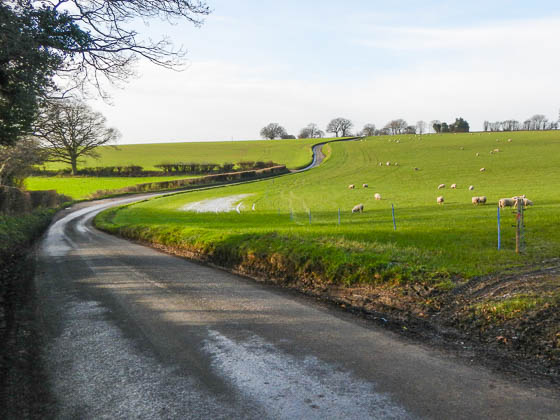 What's less well-known is that the chalk geological features that define what we call "The Chilterns" extends south-west all the way into Wiltshire and north-east around the southern edge of Cambridge via Royston and on northwards to the Lincolnshire Wolds — the Chilterns lumpiness is not restricted to the AONB boundary and this route takes distinct advantage of that fact!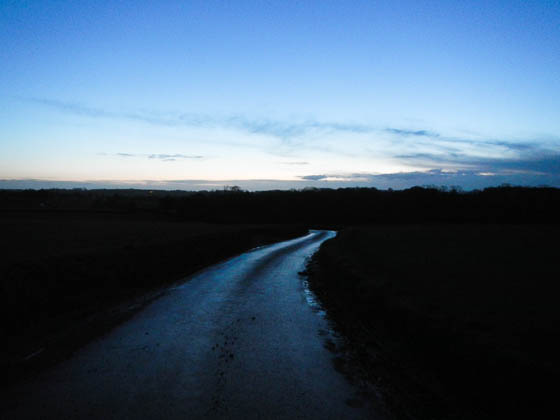 This route starts from Great Shelford, just south of Cambridge, in order to minimise the distance wasted on the flat. The climbing starts, after a quick 10km warm-up, at the quaintly named — and indeed it is quaint — village of Ickleton with the climb up Coploe Road to Strethall. Once the bridge over the M11 is behind you then the landscape becomes peaceful and the lane meanders up the wide, chalky hillside with few hedges. After the inevitable sharp downward thrust, there's another climb up to Quicksie Hill and Arkesden, followed by another hill and another.
The route rolls continuously for the middle 190km — although 'rolls' could be misleading, since many of the climbs are short and sharp, ramping up to 10% in several places. Many of the descents are steep, too, so not much time to recover. The views get nicer the further west and the elevation increases to the two high points — the ironically named Bottom Lane above Tring at 247m, where we cross both the ancient Icknield Way and Ridgeway, and The National Trust's Dunstable Downs Visitor Centre at 243m — with grand views at both. However, the climbs up to those two points are gentle and not hard at all.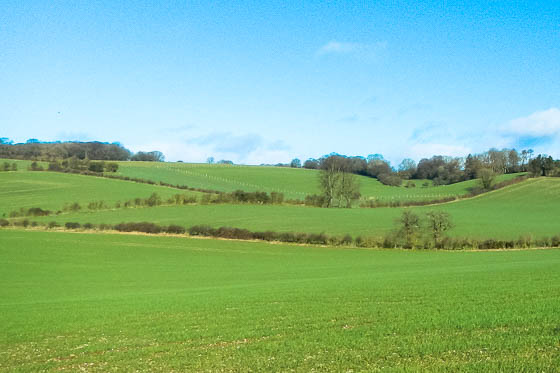 This route is littered with quaint names that hide a story or two — the telling of which will have to wait another day, as we have little idea. Many of them are possessive, suggesting hidden depths: Tom's Hill, Quicksie Hill, Annables Lane, Gravel Lane (it's a proper road now), Grim's Dyke (also Graeme's Dyke, Grim's Ditch and Gryme's Dell), Ray's Hill, Cupid Green Lane, Gilbert's Hill, Shaw's Corner, Dancers End Lane, Piper's Hill (Gt Gaddesden) and Piper's Lane (Harpenden). We'll keep adding to the list when we re-ride this route, but feel free to submit your own. But note the number of hills in that list …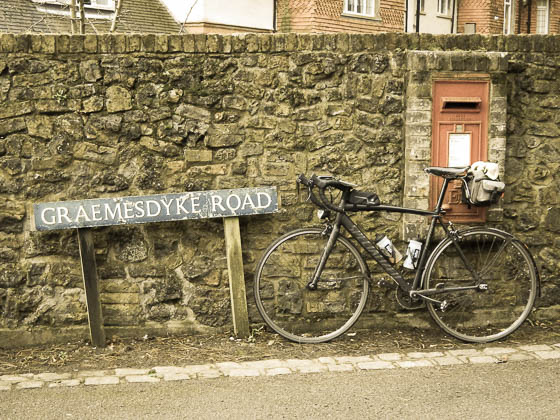 As is becoming noticeably common in the south, the area has many pairs of breeding red kites and these were out in numbers while I last rode the route in February (2016). Expect these and other raptors to be gliding the thermals or hovering over hedgerows above you while you're riding.
What goes up must — eventually — come down. While several of the descents are of the warming-the-brakes variety (indicated with 'descend with care' on the routesheet), most are straightforward. We've kept in two longer descents for your enjoyment — there's an eight-kilometre descent from Dunstable Downs control to Markyate, and the final descent from Barkway to Newton lasts for 15km, although you'll only notice the downwards gradient for the first 10km or so to Flint Cross.
Overall this is a fantastic, challenging route from Cambridge! Any audax rider from the area looking to step up to AAA rides, or to ride some of the Welsh or Wessex classics should ride this to check their fitness — it's our hardest ride to date, but is still a bit easier than any of the above and so should give you a benchmark to aim for. And any rider just looking for a decent, heart-warming ride in the country is well served by this route.
The route
This clockwise route starts from Great Shelford, just south of Cambridge, in order to waste as little distance as possible on the flat plain before starting to climb. The climbing starts at Ickleton with a couple of significant climbs to the first control at Clavering — the stores opens at 8am every morning, so you probably want to time your start carefully. Alternatively, turn left by the Cricketers PH and follow the B1038 a couple of kilometres eastwards to Newport and control there (ATM) if riding very early. If doing an overnight ride during pub'o'clock hours then control at the Cricketers PH.
From Clavering the route meanders cross-country-wise through Hertfordshire via Puckeridge, Watton-at-Stone, Codicote, Wheathampstead, Harpenden (Hatching Green end of town), main road to Redbourn (two bike shops on the High Street) and then under the M1 and immediately into The Chilterns AONB. There's a stiff descent to Great Gaddesden and lunch in the garden centre café, where you can wheel your bikes through to the café's outside-seating area. (If the café is closed then take a selfie and proceed to Berkhamsted and control there.)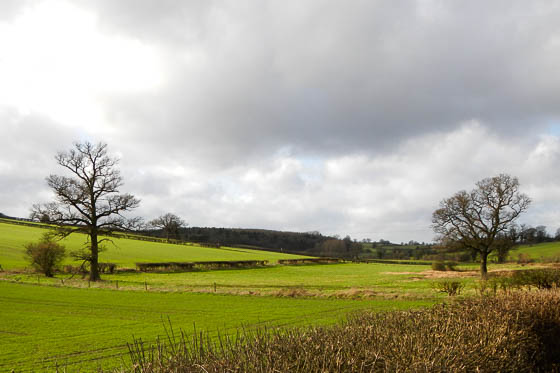 You don't want to eat too much in Great Gaddesden, as Piper's Lane is a 10% climb straight up the hillside and is followed by a steep descent to Nettleden. Then it's a drag up to the hill above Berkhamsted and a fast descent on Gravel Lane to the town centre along the valley floor. If you thought that descent was steep, the climb out the other side of the valley is even steeper — another 10% corker straight up! The climbs are by no means over, but the general gradient slackens off on the way to the high point of the ride and the only info control — the radio mast on Bottom Road where it meets Icknield Way and Ridgeway — 247m by OS. Briefly we're in Buckinghamshire, but only for a few kilometres.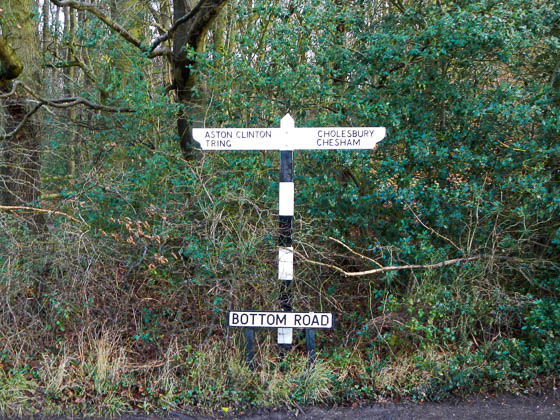 Bottom Road now falls sharply away in what is the most tortuous descent of the entire route — you will need good, working brakes for this descent, as there's a blind hairpin corner that you must take with great care! With that out of the way, the run to Tring is a real leg-spinner with a benign half-climb in the middle. Through Tring (not a control) and out the other side and it's a short run across the face of the Chilterns escarpment to Aldbury and the delicious climb up Tom's Hill back onto the chalk massif — another ten-percenter.
The route from here is scenic with glimpses of Bridgewater Monument and Ashridge School on the National Trust's Ashridge Estate. A stiff climb up the appropriately named Pedley Hill and then more gentle winching to the second highest point of the ride at the control at Dunstable Downs Visitor Centre — 243m. The views on a clear day are amazing, and with a stiff breeze then watching the gliders land at the gliding club from above is breathtaking! The wind was about 50mph when I was last there and it was hard to get going again! (If the Visitor Centre is closed then continue on the B4541 to Dunstable where L @ mrbt to control at the 24-hour garage there; you'll have to re-climb about 90m to get back on course.)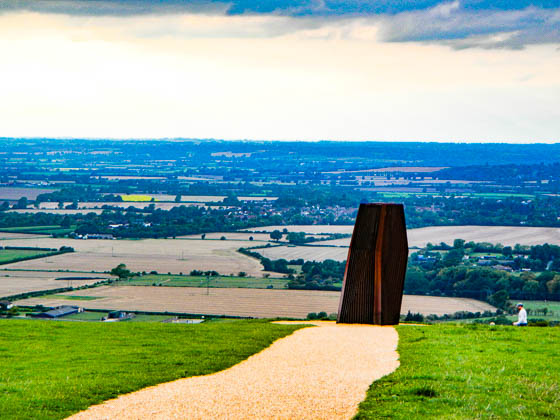 Now enjoy the 8km descent to Markyate and immediately another hard sequence of short climbs away from the A5. The last truly stiff climb is out of East Hyde on Farr's Lane, although after some lumpiness the climb out of Graveley feels steeper than it really is — actually it's possibly the steepest ramp of all, but only a few metres is above 10%.
The route rolls up through Hall's Green to Cromer, where the road climbs to Cottered and rejoins the main-road network for the run to Buntingford, the final control.
From Buntingford it's an easy climb to Wyddial and on to Barkway, from where there's a 15km descent all the way to Newton — just a short hop and a skip from the finish in Great Shelford, woohoo!
Important notes
This route is significantly agricultural in places due to the nature of the ancient roads often being lower than the surrounding fields (see the photo at the top of this page), and so suffer from run-off when the weather's heavy. You are strongly advised to use mudguards in all but the driest of seasons.
Chalk is associated with flint: it's a geological fact. You should expect any gravel in the lanes to include plenty of flint and so you should consider puncture-resistant tyres a requirement — skinny racing tyres may be more trouble than they're worth on this route.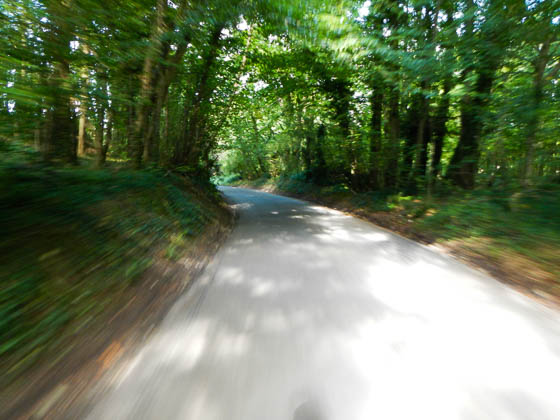 There are some very steep descents with blind corners. You will need good working brakes on this route for several technical descents and you should check the state of your brake blocks/pads and cables and resolve any issues before you start.
This route is known to suffer from ice in extremely cold spells! You are strongly advised to take extreme care when adventuring out during winter!
The controls
Start and finish in Great Shelford, 5km south of Cambridge city centre — there's a Co-operative and Lloyds Bank (ATM), as well as a Post Office, café and other amenities. Aim for High Street, Gt Shelford, CB22 5EQ.
There are five controls and one information control:
Clavering — M&Ms supermarket opens at 8am, but closes fairly early. Also PO and pub. If closed, control in Newport.
Great Gaddesden — Garden centre and café. Opens at 9am, 10am on Sundays. If closed, take a selfie and control in Berkhamsted in 6km.
Bottom Road above Tring — information control — answer the question you were given by the organiser.
Dunstable Downs Visitor Centre — opens 09.30 to 16.00 in winter, to 17.00 in summer. If closed, continue down the hill to Dunstable, L @ mrbt to 24-hour services and then retrace to the top of the hill.
Harpenden — Tesco Express (ATM) on RHS before railway bridge, or continue to town centre for full services.
Buntingford — 24-hour garage on roundabout as you enter the town, or high street shops, cafés, pubs, ATM.
To best experience this ride, you should aim to get to Dunstable Downs Visitor Centre before it closes, otherwise you'll have an extra 90m of climbing after you've gotten your proof-of-passage in the town below! At minimum pace it's just possible to control in Clavering as M&Ms opens at 8am and get to Dunstable Downs Visitor Centre by 5pm closing (summer opening hours), which means a 6.30 start from Great Shelford. However, stronger riders should be able to start at 7am, control in Clavering at 8am, and be at Dunstable Downs by 2pm for afternoon tea any time of year.
Alternatively you can start at any control on the route and ride in either direction, but note the limited opening times of Clavering, Great Gaddesden and Dunstable Downs controls — Dunstable's the biggest penalty if it's closed when you get there! If you wish to start at a point on the route between controls, please confirm with the organiser first.
The routesheet
There are two versions of the routesheet, depending on what you want: one has distances between instructions and holds your hand; the other contains just the turn-by-turn instructions with only as many distances as necessary for navigation and planning, as preferred by old-school audaxers: (updated 4 April 2016)
The GPS files
IMPORTANT — make sure you understand which version of the following GPS files are most suitable for your device.
Garmin Edge devices — new 500, new 700, 800/810/820, 1000, 1030 — use TCX; 10,000 points should be okay
The RideWithGPS IQ App also allows direct download from the pinned track to the latest Garmin Edge units
Older Garmin Edge devices — you're in a murky area in that TCX should work, but you may get a more reliable result from GPX; 10,000 points should be okay
Wahoo devices — TCX 10k, or "pin" the RideWithGPS route
Older Garmin devices — GPX and either 250-point or 500-point depending on which device.
Make sure you test these files out on your device before you start!
The full-route files are provided as a single TCX or GPX each. However, the rest of the GPS routes, where the route is split into multiple GPS files, are provided as a ZIP file for each format — you require all of the files in the ZIP file!
The routes are provided as follows:
a single route for the whole 213km — FULL;
two half-distance legs — LEG_.
There are additional notes in the organiser's notes and routesheet, including cautions and alternative routes. It is your responsibility to familiarise yourself with the route and any reported hazards before you start, especially as none of this information is included in the GPS files!
This is now where it gets complicated — there are a LOT of options here, sorted by how split up the route is, how many points in each part, and whether it's TCX or GPX.
Getting to the start
Hopefully you live close enough to cycle to the start, but if not then park in one of the residential areas near High Street, and there is a free car park in Woollards Lane just off High Street, Gt Shelford, CB22 5EQ.
Cambridge is well-served by train, and it's an easy 6km ride via the Busway and the DNA Cycle Path to Great Shelford.
Before you start
It is a requirement that you notify the organiser of the date of your ride for validation and insurance purposes — a text or email is sufficient.
You should check your brakes and resolve any issues before you start — some of the descents are steep with blind corners!
On completion
When you have completed the ride, write the control establishment names and times on the brevet, along with the answer to the info-control question provided by the organiser, complete your details on the reverse and then send your brevet card and receipts to the organiser (details are on the routesheet). And please remember to sign your brevet!
Have a great, safe ride! Enter this ride
Note that all photos on this page were taken by Nick Wilkinson on several rides in September and December 2015 and January and February 2016.