Cambridge PBP Pubinar #2 — The Red Lion, Histon (16 July)
The second pubinar for Cantabridgians to discuss Paris-Brest-Paris, ask questions, posit hypotheses, have a drink and a chat. Martin hosted, NickW mostly presented, NickJ provided multi-ancien insight, Alan and Phil asked a lot of questions.
(Notes from the first PBP Pubinar in June are here.)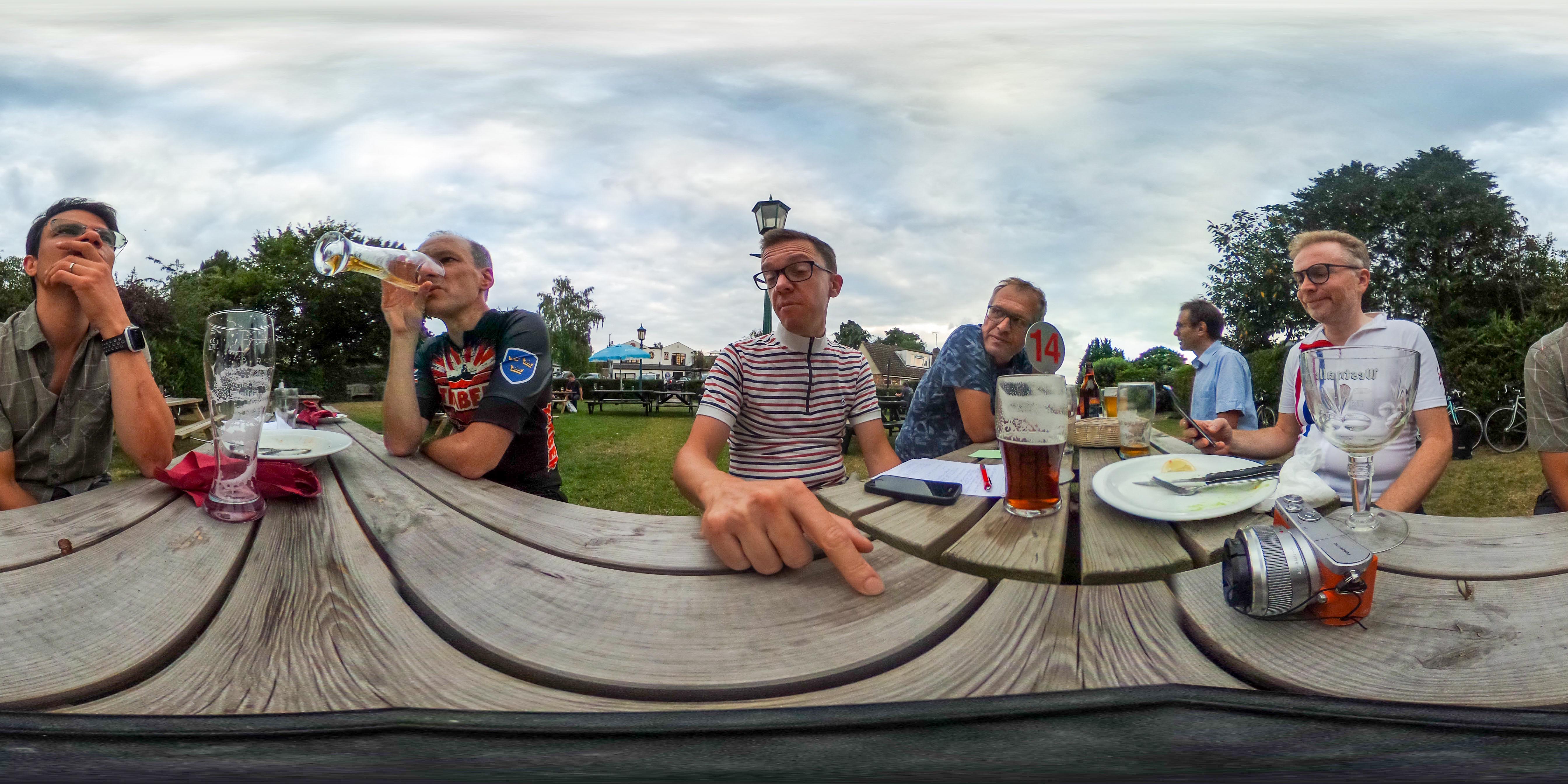 Attendees — Martin Stefan (org), Alex Brown, Peter Harper, Nick Jackson, Phil Latin (St Ives), Alan Sousa da Silva, Nick Wilkinson.
We sat outside — it was a warm, muggy evening; that meant we all had our bikes lined up along the hedge behind, and there was a little bike-envy going on … beers were drunk, food eaten, and a lot of round-table chatter throughout.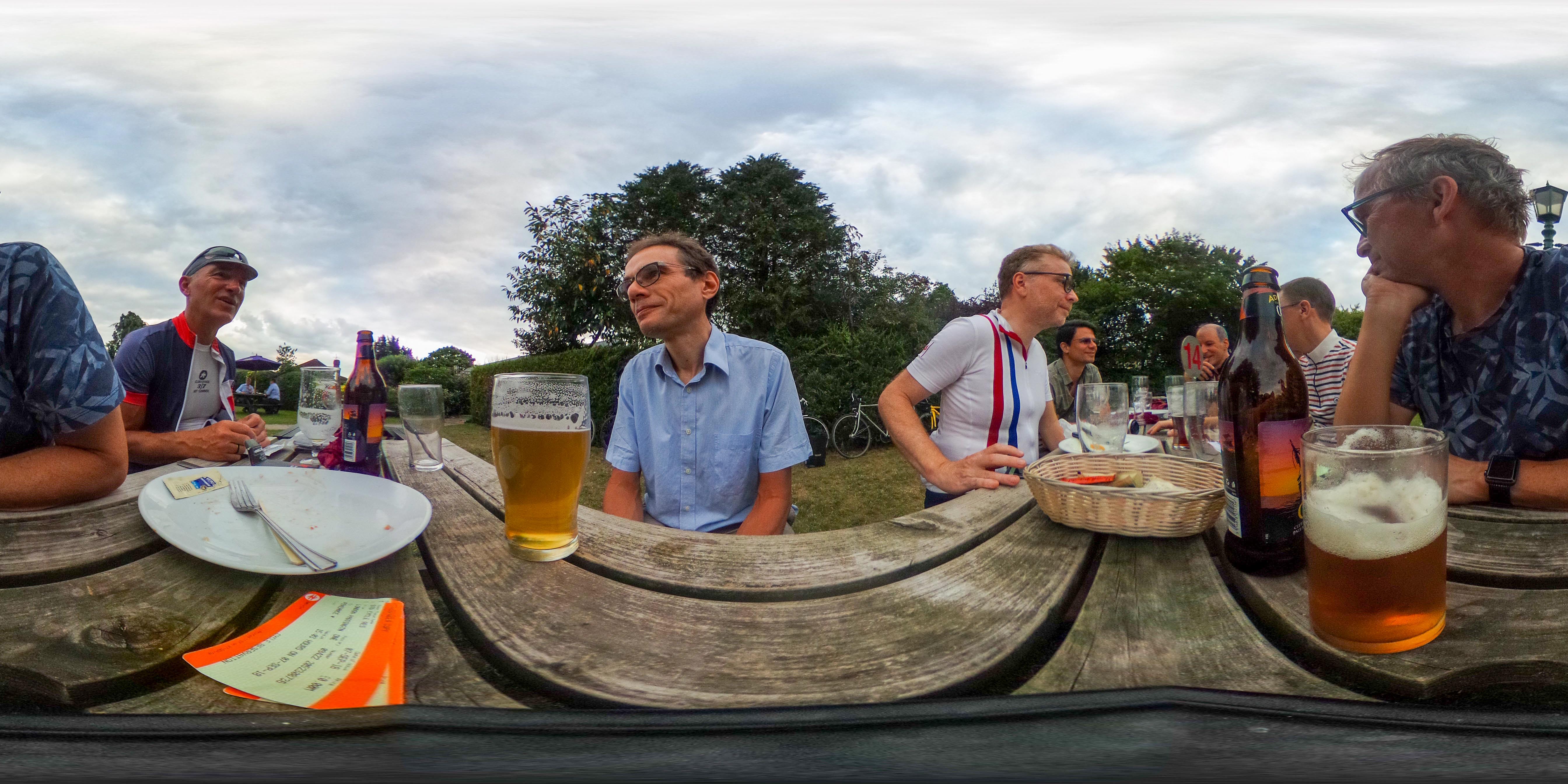 This is a summary of the notes that I (NickW) took with me to the event, which provided a loose structure to the discussion. We covered one or two points again from last time, just for clarification.
This time I wore a classic, relaxed jersey in faded-French colours. I was joined by Alex in pristine French stripes, and Phil in a red-white-and-blue casual jersey.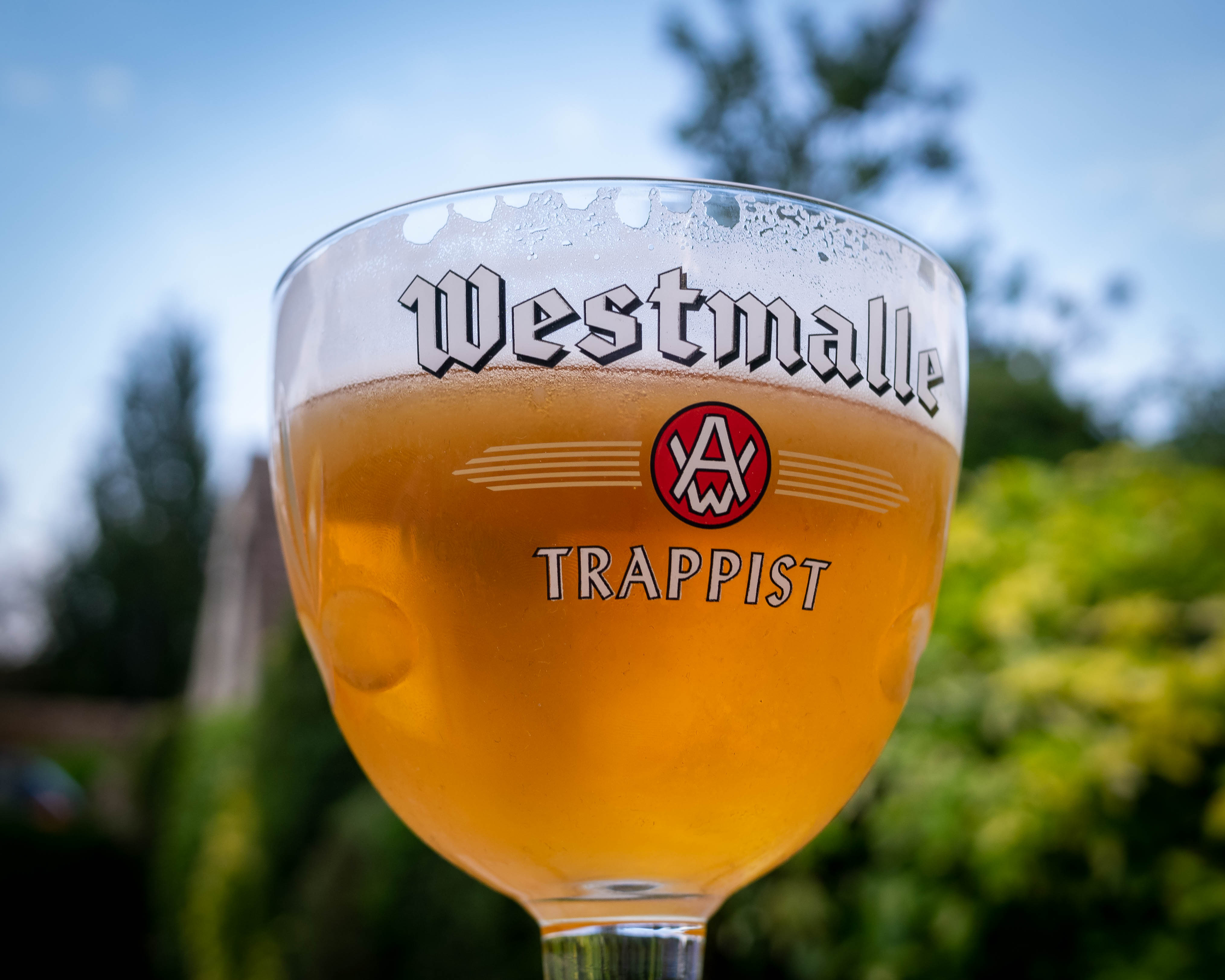 Nearly there
Just five weeks to go — or is it four?
Time to start tapering …
A show of hands on travel indicated one by train, two driving, and four riding down, although NickW may drive instead of ride, depending on the leg.
A mix of destinations: Martin is staying in Rambouillet itself; Alex will be staying in the Palace of Versailles (did I hear that right?!); Alan's staying in Quimpers and will be ferried around by his long-suffering wife; Phil's staying with friends in Versailles; Peter's in an AirBnB; NickW's either staying in Rambouillet, or 3km away, currently, TBC.
Most people will get to the Rambouillet area on Friday afternoon/evening.
Saturday
On Saturday, the first thing every rider must do is pass the bike check — nobody can enter the bike park or collect the registration pack until after a successful bike-check.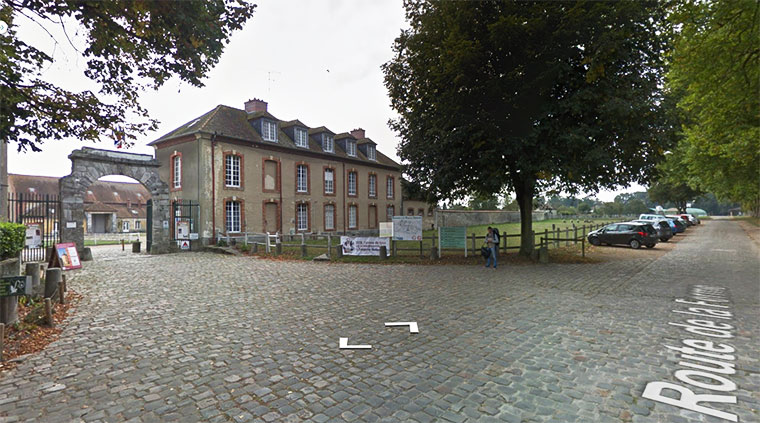 Queue along Rue de la Ferme (where the cars are parked in the photo above) to get to the bike-check tent. On exiting the tent enter the bike park, which will be the grass area between the parked cars and the building; lock your bike then enter the archway to the quad to register.
Bike check — 30-60 minutes' queuing. They'll check lights, brakes and do a bounce-test to check for general secured luggage, etc.
Take ticket and park bike — on successful check, a sticker goes onto the bike allowing entry/exit to/from the bike-park, and each rider is given a ticket that releases their registration pack. Lock your bike!
Take the ticket to the registration "barn" — exit the far end of the bike park (sans vélo) and turn right thru archway into quadrangle: the barn to the far right is for French entrants and to the far left is for everyone else (according to ACP's notes). Queue for another 25-45 minutes for registration; and maybe queue again for jersery-collection, depending on how organised ACP has managed to be; if it's raining, expect to get wet.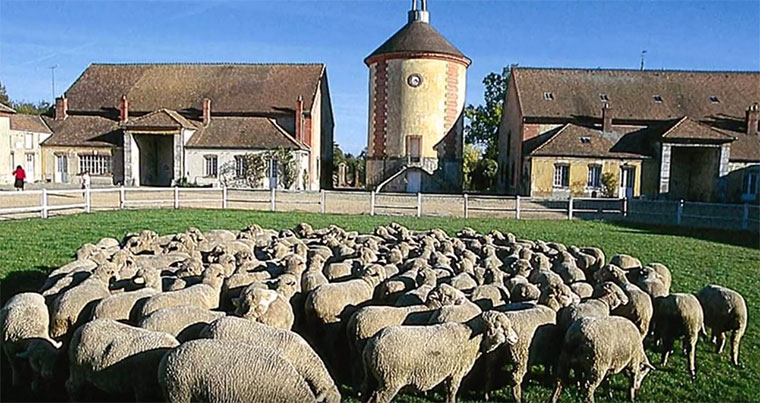 And that's it — once you've registered then there's nothing more to do at the Bergerie on Saturday.
Phil asked about passing the bike-check with tri-bars in the legal position, and then adjusting them out to a more comfortable position when nobody's looking — would the motos and control marshalls check after the départ? Who knows — this is the first time tri-bars have been allowed; NickJ made the point that if riders abuse this concession, it could well be the last time, too! Since more than 50,000 riders have completed PBP over the years without tri-bars, it was suggested Phil was being a little fussy.
Martin is going to try to find somewhere for us to meet up in the evening in Rambouillet, for those riders unencumbered by family duties — pizza/pasta kinda thing … Martin has since also suggested a Friday meetup, which would be good.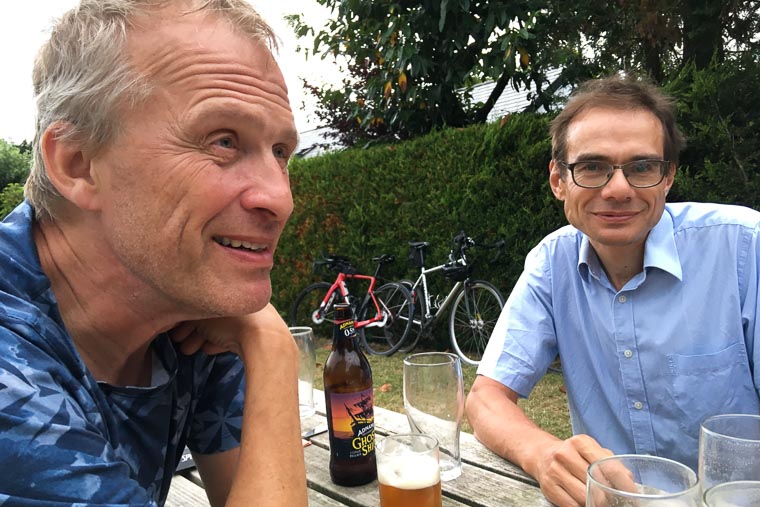 Sunday
Check out of hotels/camping as late as possible.
Get across to la Bergerie
Bring disposable snacks and non-riding liquid to keep going until the evening without digging into the on-bike provisions — especially important if it's hot!
Drop any hotel bags off in one of the barns, i.e. left-luggage. Don't forget to collect on return.
Eat lunch early on, if purchased.
Sit out under the trees watching the groups go off until it's time to queue up — will need to start queuing around 45 minutes before départ.
The first 10-15km will be en convoi, with, I suspect, the lead vehicles pulling off after the first town, St-Léger-en-Yvelines.
On release, find a nice-paced group and sit on, save the legs, enjoy the tow. NickJ made the point that he has been knocked off when leading such a group, because it had become too big for vehicles to pass safely — be warned.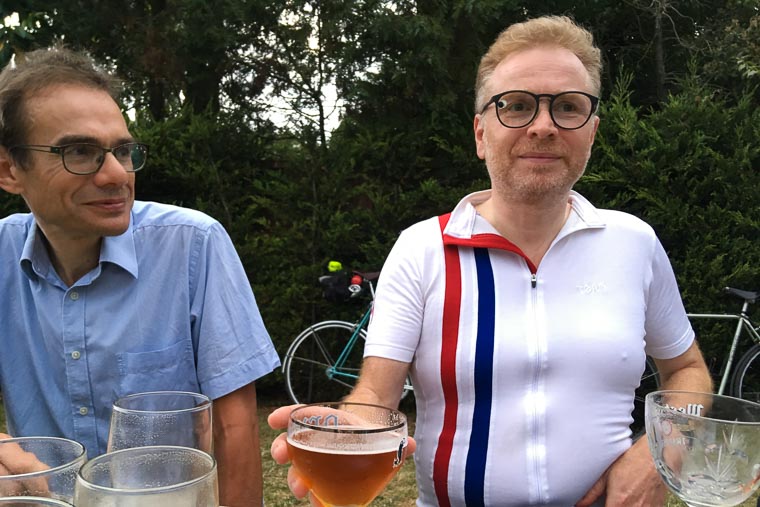 The ride
Early stages — Try to stick with groups for a free tow. Try not to do all the work on the front, unless you're NickJ or Phil.
Ride buddies — if you're thinking of riding with a buddy, consider keeping it a loose arrangement — there will be 6000 other riders on the event, a large minority of whom speak good English, and almost all of them are interesting. It's part of the fun of these large, international events.
Sleeping — the dorms will be rammed in the bulge, so be prepared to sleep anywhere! Consider taking a lightweight sleep kit. NickW's taking a cut-down freezer shopping bag as a mat, with a sleeping-bag liner, total weight about 300g, possibly less. That will be good enough unless the weather's proper chilly.
Sleep strategies were also discussed, but everyone should already know more or less what works for them. For completeness, two strategies were mentioned:
Go to sleep just before dawn while it's still dark and then wake an hour later when it's light — this works with your body clock, but bed-availability may be an issue;
Sleep during the day while it's hot — this avoids the heat of the day, and the dorms are likely to be empty, so a bed is virtually guaranteed.
It's in the head — You need the mental motivation to finish, certainly after the second day onwards.
Chip timing — The official timing will be taken from the chips embedded in the dossard — every control with have entry+exit kerbs hiding the sensors and, if anything like 2015, riders' official times will be taken from the chip time, including start time (it can take several minutes for each group to pass through the starting arch and there's a sensor there). This means that there should be no panic to get to the contrôle if close to the limits, because it's the chip-time that counts — listen for an audible beep as you bounce over the kerbs.
NickW's 2015 brevet has a sticker in it giving chip timings, which his overall ride time of 89h03 was calculated from.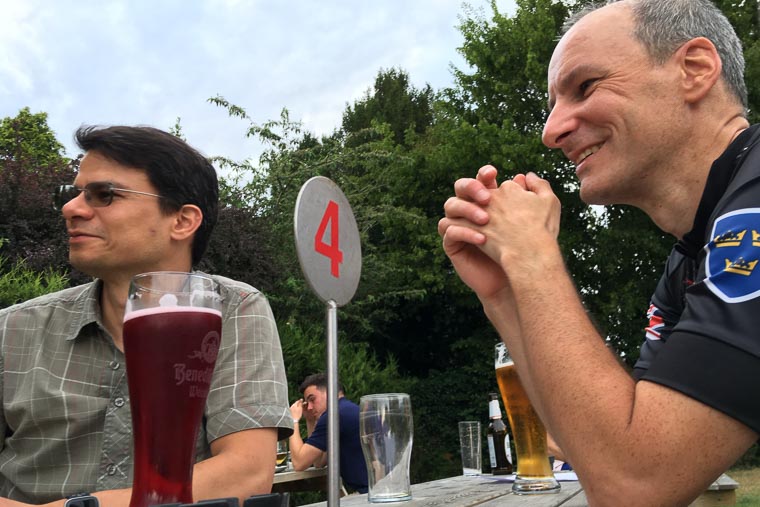 Control strategy —
Contrôle
Eat & drink — café/restaurant/town centre dining
Sleep
Refill bidons
Carrying stuff around controls — the last thing you want to do in a control is to put your bidons down while you're eating and then forget them! So, best to take a musette or lightweight backpack, or something, to keep your stuff both together and on your person. In 2015 one of the control towns handed out lighweight sports sacks, which will do nicely — I will probably keep my wash kit in there, for reapplication of creams and potions, and I'll drop my bidons in there as well, plus any clothes for a kit-change. The brevet will probably come in a clear plastic wallet on a lanyard, so I'll keep this in my Carradice while riding, but wear it around my neck when stopped.
Food — Every control has food available — a grab'n'go café serving pastries, baguettes, coffee and beer; sit down restaurants. Can be hard to find — ask a volunteer. Brest's restaurant was well worth the visit.
Water — Every control has water available, but it is different at each control. Very similar to LEL.
Pop-ups — There will be professional pop-up stalls, town carnivals, as well as random strangers all happy to provide water, other drinks and food, often free, but also paid-for. Gorron, La Tannière, Sizun, to name a few.
Shops and cafés — apparently France closes Sunday and Monday afternoons, and service stations are not as well equipped as UK ones. You can always get food and water inside the controls, but it can be hit'n'miss outside.
Service — Most controls will have a bike-service, although it may not be manned all the time. There will be a charge for any work and parts.
Payment — You will need cash to pay for food, drink, dormitories and showers, and bike-service. €200 should be enough, even €150 should be plenty.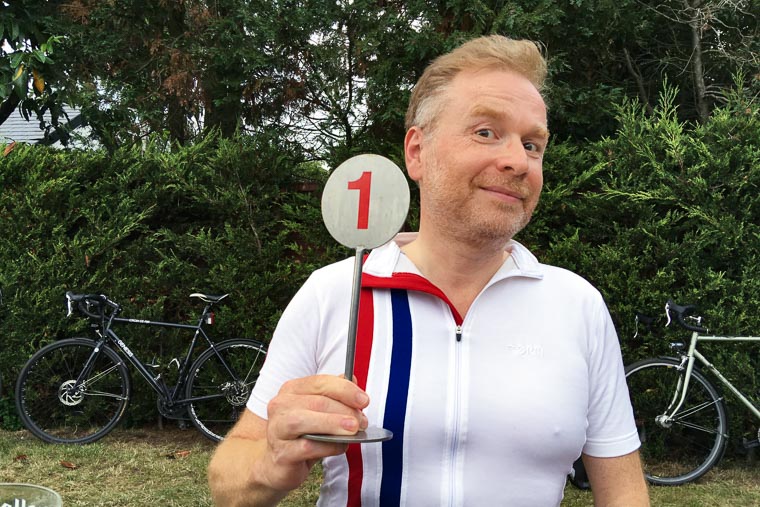 Wednesday/Thursday — Arrivée
You'll be knackered when you finish, possibly delirious, so —
Park and lock your bike.
Hand in your brevet — take a photo if you want to for social media.
Eat + drink — an end-of-ride meal is included; it won't be much, but it will be something. NickW slept in the middle of the floor while Marcus JB and Cass (his wife) went off to get him some food — beyond exhausted!
Sleep — there will be a dormitory tent, but beware light-fingered riders pilfering anything left lying on the floor …
Return to hotel/campsite/family.
Eat + drink.
Sleep some more.
Getting home
Some people will ride back to the ferry. Leave early on Friday and take your time — your legs will be troublesome.
Some will opt for the train — there was a suggestion it was necessary to return to central Paris and catch a train to Dieppe/Caen from there, but RER trains should go direct from Rambouillet. However there are likely to be quite a few riders with non-functioning legs trying to do the same, so expect a bit of a bunfight to get a bike-space.
Preparation for the ride
Service the bike — you'll put nearly 1000 miles onto the bike during the week, so check:
Gear cables
Brakes cables and blocks
Tyres
Chain
Fix anything that might go end-of-life during the event. Especially gear cables, Phil.
Weather — it could be hot or cold, wet or dry, windy or still — or any combination. Take appropriate kit — Phil, don't forget your waterproof this time!
Layering — in 2015 the weather on the Tuesday started around 4°C on the climb up le Roc'h, and the descent down the other side was excrutiatingly cold — NickW had to keep stopping where the sun shone through the trees along the ridgeline to bask like a lizard. Later that day on the return climb, the temperature was in the high 20s. You'll need to be able to layer up and down to suit the conditions. Arm and knee warmers are strongly recommended, as well as a long-sleeve of some sort (a waterproof will do fine).
Planning — do, but don't! Do make a plan, but expect it to be utterly wrong. However, the act of creating a plan or estimate-of-sorts and then comparing that to your ride after-the-fact is an interesting and informative exercise, so it is definitely worth doing, just don't try too hard to stick to it on the road.
Routesheet, etc. — NickW's preparing a 12-page (!) routesheet, as well as complete GPS files, pinnable from RWGPS, just for you, Phil. Ultimately, though, FOLLOW THE ARROWS!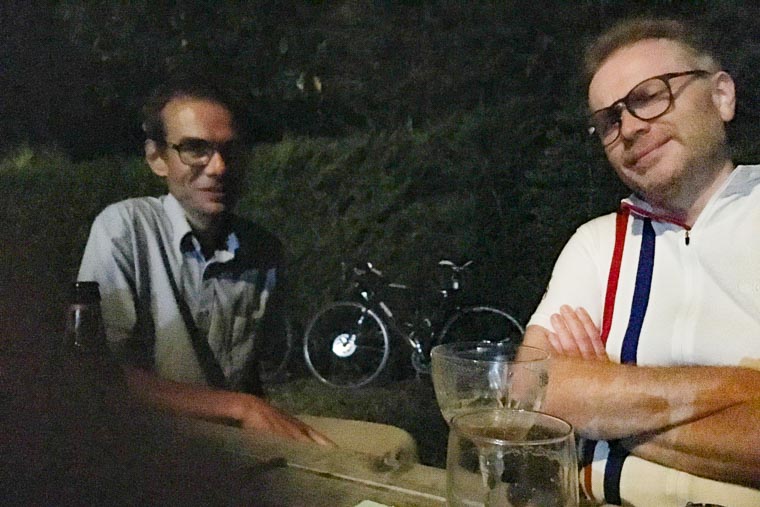 Kit list
Everyone's kit list will be different, but NickW did a show-and-tell of the contents of his Carradice Lightweight (same as Super C Audax, same size as a classic Barley). NickJ made the point that his total kit, including hotel kit, would fit into the same size, and he would leave half of that in the left-luggage at the start.
NickW's Carradice weighed 3.25kg, but will be closer to 3.5kg by the time we get to Paris. Plus 300g for the sleep kit.
NickW's kit list from 2015 is here — just remember that that was for the Brompton, and he's riding fixed-gear this time.
Toolkit
2x inner tubes — enough to get to the next service; wrapped inside a bag to prevent chafing while stowed
Pump — enough to get to next service
Puncture repair kit — in case the next service has run out of new tubes; includes both insta-patches and proper glue+patches
Tyre levers — weak thumbs towards the end
Wheel nut spanner — for fixed-gear rear wheel
Allen keys multitool
Plate spanners — NickW needs 8mm spanner for mudguard-fettling, and 10mm for brake nuts
Pliers multitool — pliers, knife, flat screwdriver, non-locking so carry-legal in most of the world
Lightweight chain-splitter (27g) — includes slots for use as spoke key
Tiny (19ml), refillable bottle of Finish Line Wet Ceramic chain oil — even if your preferred lube's something else, could get this really useful little bottle, donate contents to NickW, wash out the bottle and refill with the other
Pin-like tool for removing flints, etc., from tyres
Cable ties
Electrical tape
Small pack of spares — 4 + 5mm bolts, washers, nuts, cleat bolts and plate, brake pads, CR2032 batteries, etc.
A few links of 1/8" chain — doubtful whether a new fixie chain could be obtained at the service, so repair rather than replace
Fiberfix carbon-fibre emergency spoke — Rufus the tandem trike needed ten new spokes during PBP 2015!
Pre-assembled front dynamo cable
Clothes
The general consensus is that taking lots of changes of shorts and jersey isn't necessary and just adds weight and takes up valuable space — whatever clean clothes you change into will smell just as bad within an hour or two …
Stuff sack with socks and base layer
Stuff sack with arms, legs, gloves, hat, snood
Waterproof — currently Endura packable inside the saddle bag, but might take Rapha strapped to top
Waterproof hat
Reflective gilet — strapped to top of Carradice, reachable while riding; required
NickW's take on packing is that using stuff sacks to loosely organise kit inside the Carradice makes it easier to find things, and easier to do the Tetris-type packing required to get everything to fit. However, after a while entropy kicks in and a few minutes must be spent repacking the stuff sacks to reap their benefit.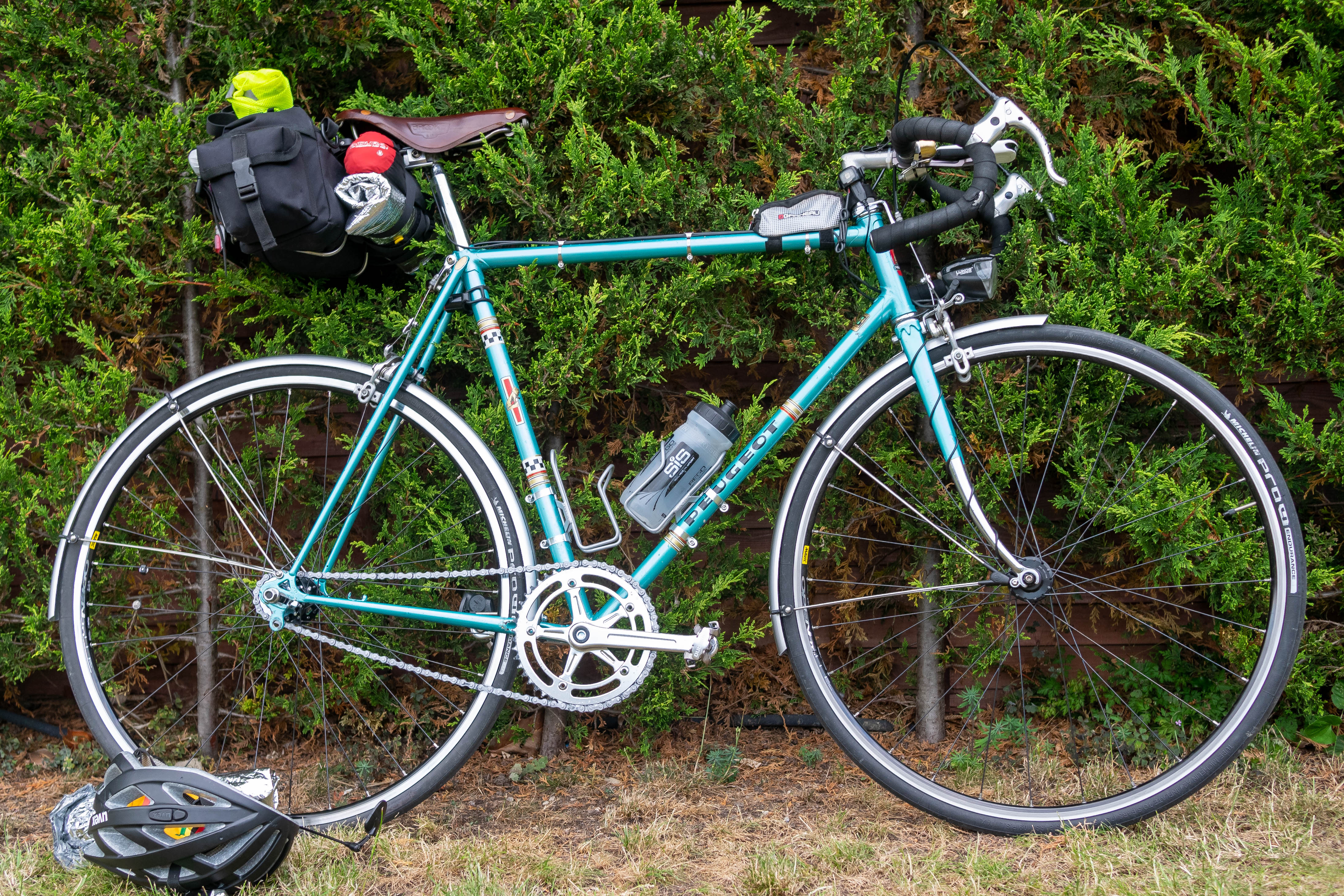 Sleep kit
With this, Nick says he could sleep anywhere:
Cut-down freezer bag as a mat — strapped to the front of the Bagman
Sleeping-bag liner as a bag — strapped to the front of the Bagman, in a waterproof-ish stuffsack
Use Carradice as pillow
Comfort kit
Creams
Toothbrush and toothpaste
Tiny microtowel — towel or flannel, or both; easy to dry by attaching with a carabina to the Carradice; extremely useful
Wet wipes and tissues
Contact lenses
Sun lotion
Miscellaneous
Clear/dark glasses in a soft case — wear one pair, stash the other
2x small USB batteries (rechargable from dynamo)
Short USB cables and spares (micro and iPhone)
Spare camera batteries
High5 salt tablets
Spare front and rear lights
Waterproof saddle cover, in case of rain whilst at a control
Pen to write answers to info questions …
Steel cable and padlock — a slightly sturdier café lock
I may also pack a titanium spoon, just in case.
---
IMPORTANT — SECURITY
There were a number of reports of thievery at arrivée in 2015. The management of the exit of the bike park was suboptimal — every bike has your rider number, and you put a sticker with the same number on your helmet, but many riders had handed helmets to loved-ones and so had to argue their way out. I believe some bikes were purloined this way, therefore lock your bike at arrivée!
Also I recall some reports of riders having small possessions, including shoes, stolen from the sleeping tents, which lacked volunteers to monitor ins and outs. So be careful if you sleep in one!
---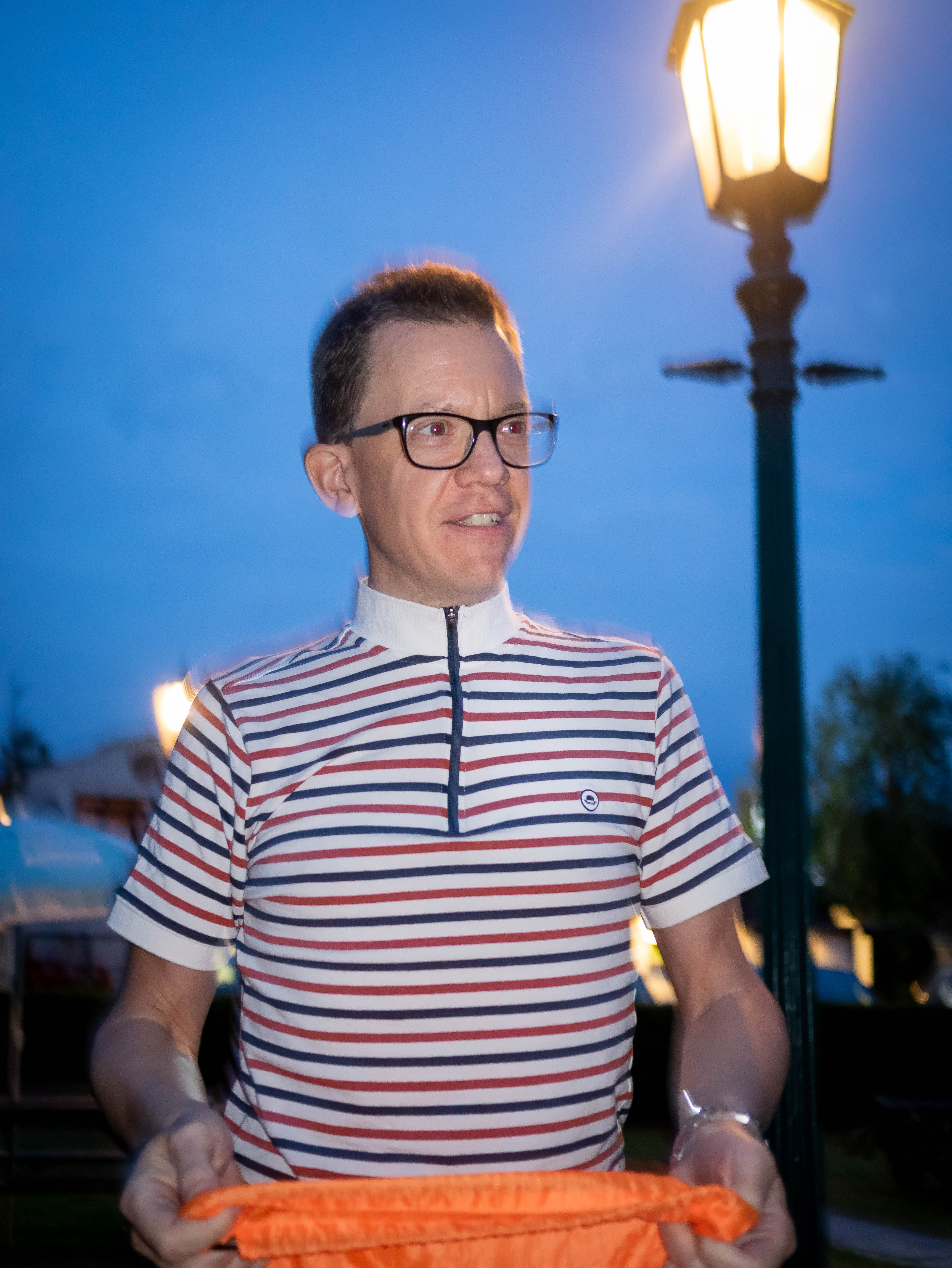 Next meeting
We loosely agreed a post-PBP get-together and debrief/story-telling evening. That has since been firmed up a little to Tuesday 3 September, same time, probably same place. PBP jerseys mandatory ;)