The Cambridge Autumnal 200 calendar event Enter this ride
8am, Saturday 17 October 2020, from the Recreation Pavilion, Girton, Cambridge (next to the church).
213km, 15 to 30kph (6h48m to 13h36m). 1400m of climbing.
Autumn is a great time to celebrate the end of one and the start of another Audax UK season by getting out on the winter bike and putting away some miles — "winter miles, summer smiles", as the saying goes, and now's definitely as good a time as any to put it to the test.
IMPORTANT — this event will be run under a strict, covid-safe protocol throughout. You will be required to follow this protocol during the entire event for your own health and for those around you, and to stay within the law. See this page for the current protocol.
NOTE — this event will be limited to 30 riders only. It will be a car-park start and postal finish. Entries open at 10am sharp on Saturday 3 October. We expect the event to fill up quickly and will run a waiting list after.
Info — validation can be using receipts in the classic fashion. This year we are also able to offer "no-touch" validation using GPS, so you can carry a picnic and stay distant from other people — details will be sent to all entrants.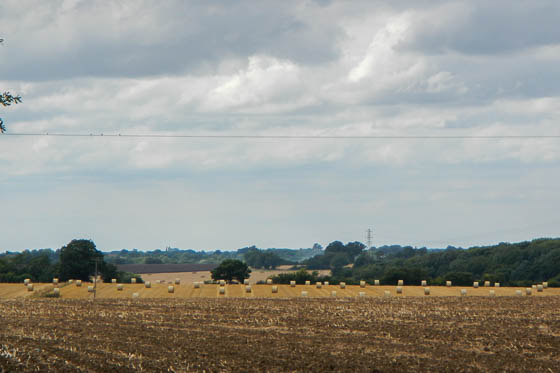 For this autumnal adventure, the route takes you exactly due east across the gently rolling Suffolk landscape via the old market towns of Newmarket, Bury St Edmunds and Debenham to the historic castle-and-market town of Framlingham for lunch. As last year, this event no longer coincides with the Great Framlingham Sausage Fest, so you'll have to choose something else from the menu.
Note: if you don't fancy 200km in mid-October, we're also running a 100km event.
After the turn the route heads back to the well-respected cyclists' shop+café of Maglia Rosso at the former Metcalfe Arms public house in Hawstead for a bite to eat in the afternoon. And then it's a push back up and over the chalk massif that is linked to the Chilterns Hills to one of two long descents back to the plains and thru Cambridge to the finish at Girton Pavilion.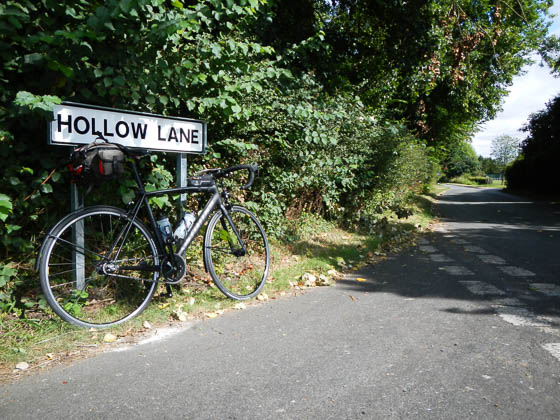 At this time of year the trees should be golden and the hedges less-bushy, so the open skies will offer some magnificent big-scape scenes, even if it's raining! You do need to hope for either a westerly to push you all the way to the first control on the open sections, or a benign northerly or southerly; an easterly would make the exposed first half somewhat character-building!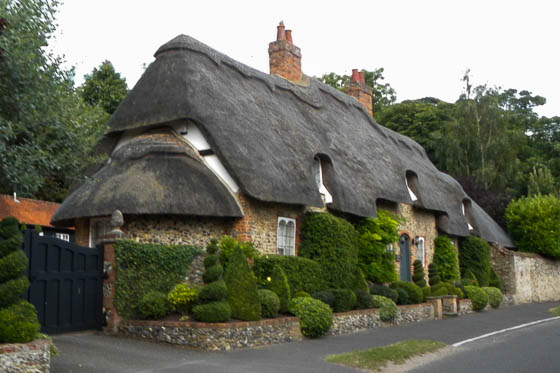 With only two controls, the first at 101km, you can focus on the ride itself and not on the controls! You do pass thru several large towns in case you need to stop, though, so it's not completely in the wilds of Suffolk, not that Suffolk's that wild.
This is the perfect opportunity to give your winter steed a proper shake-down ride on what's a straigthtforwardly quick route with plenty of opportunities to stop on the way. This is a great route for group-riding making it a very sociable event — definitely one to bring a friend or two, or to meet new ones.
Cambridge is 50 minutes from London by train and most East Anglia rail services also pass this way. Girton is also very accessible by car. There will be cake at the finish.
Who knows — it might even be sunny!
The route
The route follows a mix of lanes and quiet B-roads, with the occasional very quiet A-road for fun — perfect for autumn, whatever the weather. With only two controls, this is a really fun ride where you can concentrate on the ride itself and not on controlling. The first stage is 100km straight to Framlingham, although you pass through three major towns, should you feel the need to stop.
The other half of the ride comprises two legs separated with a stop at the well-placed and ever-welcoming Maglia Rosso café and that's your only viable stop before Fulbourn and Cambridge, although you do pass thru Stowmarket if you need anything urgently.
We will be keeping the route-change from last year, as it provides a better return to Cambridge in the dark, and it will be two weeks' darker this year than last. In fact, we've decided on an alternative route up past the prison, see what you think …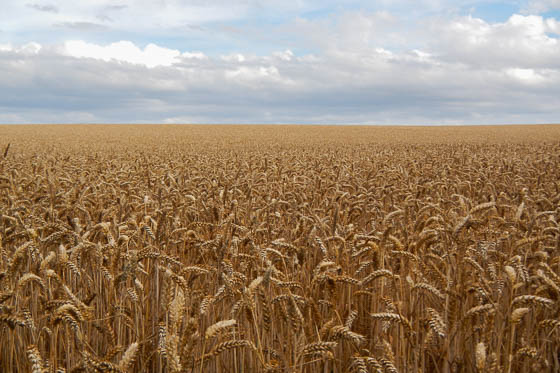 Starting from Girton Pavilion, where there will be some basic breakfast refreshments before the start, the route heads thru the back of Cambridge city centre and out along Newmarket Road all the way to Newmarket — although a wide road, it is very quiet, especially early on a Saturday morning, and you may find yourself in one or two quite quick groups along there. In fact it's a lovely smooth, gently rolling road used for the time-trial courses E33/10+13.
From the centre of Newmarket, there's a sudden 8% ascent with gallops on either side and you'll inevitably meet a number of stud groups out training. The route quickly moves to the lanes with a few rises and falls until eventually there's a brief main road into Bury St Edmunds.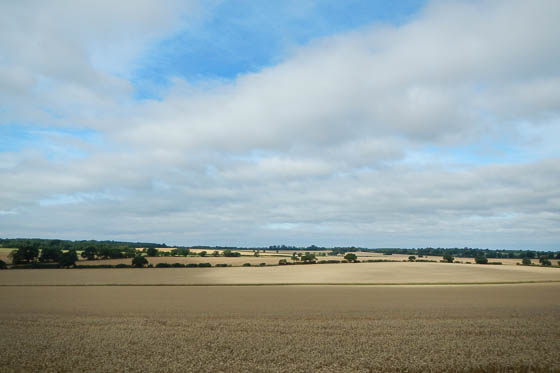 Thru the very centre of Bury (which is not a control, although you're welcome to stop) — the on-road alternative is surprisingly tricky to navigate due to Bury's one-way system — and then out into quietest Suffolk on the other side. You'll pass through historic Haughley with its ancient motte-and-bailey castle on the LHS as you enter the village before some really wide-open landscape.
At Framlingham it's a free control — the two cafés on the mini-roundabout are expecting you, but there is also a Co-op, as well as pubs, bank ATMs and other cafés up the hill in the town centre. Anyone getting an entry ticket for the castle at the very top of the hill as their proof-of-passage can have an extra slice of cake at arrivée ;)
From Framlingham you turn around to head westwards, dropping down thru Stowmarket and into the Rattlesden valley, and you follow the river valley almost all the way to the control at the Maglia Rosso at Hawstead.
The route gets a little more lumpy to re-ascend the chalk hills between you and Cambridge and provides a lovely long 7km descent thru Fulbourn to Cambridge. The exact route has changed from last year to provide some new lanes and roads, but last year's route will still get you there.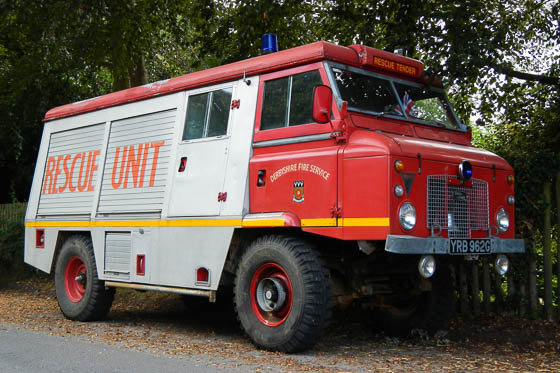 Then back thru Cambridge city-centre to cross the Cam and climb up Castle Hill (the motte is still visible at back of the car park on the righthand-side — it provides great views across Cambridge's historic city centre) and follow the Roman road back to Girton — by the time most riders pass thru, the crowds will be at dinner and the city centre quiet, but quick riders beware the omnipresent-but-unaware tourists!
The controls
Start and finish at the Recreation Pavilion in Girton next to St Andrew's Anglican church on Cambridge Road, CB3 0FH, 2km northwest of Cambridge city centre.
There are two commercial controls; you must get a suitable proof-of-passage (receipt or stamp) at both:
Framlingham, Suffolk — There are several cafés, banks (ATMs), shops and a large Coop. We usually stop at the bakery just off the mini roundabout — Bakers @ 221B — and there are plenty of other snackeries, pubs and whatnot up in the town.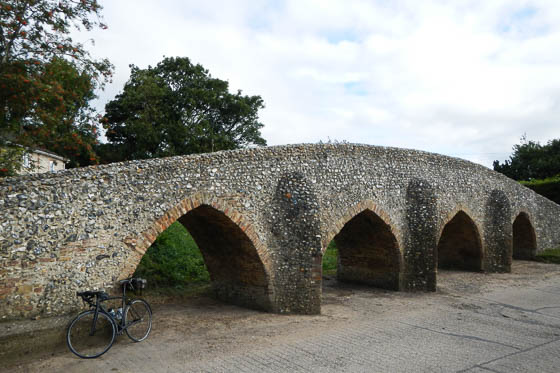 The Maglia Rosso café, Hawstead — this is a mandatory control and Alex will be stamping brevets in the afternoon. You still have over 60km to the finish from here, so worth at least stopping for a cuppa. They have an outside tap for filling bottles — self-service and much quicker overall.
Toilets are available at the start/finish and plenty of towns along the way, or behind the many hedges along the route (although don't ask me about the time I did just that … ).
The routesheet
There are two versions of the routesheet, depending on what you want: one has distances between instructions and holds your hand; the other contains just the turn-by-turn instructions with only as many distances as necessary for navigation and planning, as preferred by old-school audaxers: (updated 10 October 2019)
Note that the routesheet conveniently folds to A6 (postcard) size.
The GPS files
IMPORTANT — make sure you understand which version of the following GPS files are most suitable for your device.
Garmin Edge devices — new 500, new 700, 800/810/820, 1000, 1030 — use TCX; 10,000 points should be okay
The RideWithGPS IQ App also allows direct download from the pinned track to the latest Garmin Edge units
Older Garmin Edge devices — you're in a murky area in that TCX should work, but you may get a more reliable result from GPX; 10,000 points should be okay
Wahoo devices — TCX 10k, or "pin" the RideWithGPS route
Older Garmin devices — GPX and either 250-point or 500-point depending on which device.
Make sure you test these files out on your device before you start!
The full-route files are provided as a single TCX or GPX each. However, the rest of the GPS routes, where the route is split into multiple GPS files, are provided as a ZIP file for each format — you require all of the files in the ZIP file!
The routes are provided as follows:
a single route for the whole 200km — FULL;
a set of two 100km-ish halves — 1 from Great Dunmow to the turn at Goole, and 2 back to Dunmow.
Each part starts and ends at a control.
There are additional notes in the organiser's notes and routesheet, including cautions and alternative routes. It is your responsibility to familiarise yourself with the route and any reported hazards before you start, especially as none of this information is included in the GPS files!
This is now where it gets complicated — there are a LOT of options here, sorted by how split up the route is, how many points in each part, and whether it's TCX or GPX.
---
Getting to the start
Hopefully you live close enough to cycle to the start — it would really help us if you didn't need parking, as there's a local football match on the same day!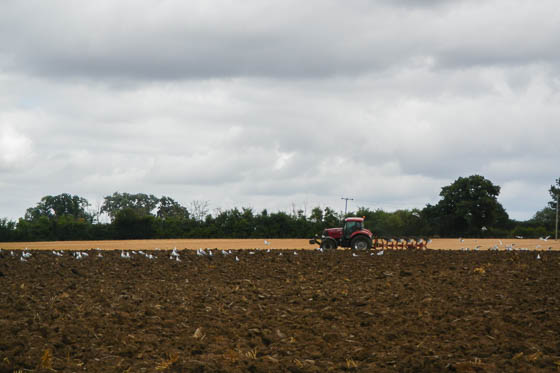 Cambridge is well-served by train and you should be able to catch the 06.44 from King's Cross, London, and arrive just about in time for the start — don't worry if you're a few minutes late to the start, we will still be there for the start of the 100km event until 9am. It's an easy 7km ride from the station to the start through the historic centre of Cambridge — routesheet | GPX | TCX — if you use these instructions, continue past the Co-op to the start on RHS in 1km next to the church.
If you intend to drive, aim for St Andrews Church on Cambridge Road, CB3 0FH. We must keep the front car park clear for a local football match and for visitors to the recreation ground while you're all away cycling, made more imperative due to reduced capacity while works are on-going. We hope to park everyone on Ten-Acre Field at the back, where there's plenty of room.**
On completion
This is an x-rated event with a postal finish this year, in the current epidemic conditions within the UK, in order to keep everyone safe. You can validate your ride by classic receipts, or using GPS, in which case do the following:
Validating with receipts — fill out your brevet with establishment name of the receipt, and time. Then put your receipts together with your signed brevet and post them back to me.
Validating with GPS — write "GPS" in the first box inside your brevet, sign the reverse, and post it to me. Then send your GPS track to me via email to nick@camaudax.uk in whatever format you have it. I will also accept a link to your efforts on Strava or RideWithGPS. See here for more information about validating by GPS.
All brevets and GPS files must be received before the end of Saturday 24 October 2020 to be included in the results.
Have a great, safe ride! Enter this ride